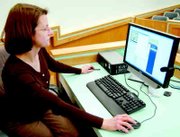 Is it live or is it Memorex?" went the advertising slogan for a popular brand of cassette tapes way back when.
The city of Sunnyside has moved light years beyond tape, with the advent of what could be described as virtual council meetings.
That is, the capability now to listen to council meetings, and view accompanying documents, live via the internet.
City Clerk Deborah Estrada said the city moved to the new system this past fall as a way to communicate better with the public.
"The big push is improving communication and accessibility," Estrada said.
She said the software, provided by San Franciso-based Granicus, can be tailored for specific meetings.
The live audio, for example, is also available over the internet for Sunnyside's Planning Commission meetings and municipal court appearances.
Estrada said the benefit goes beyond a live connection for those in the public unable to attend a meeting, or who just want to listen in. The digital recordings are archived for three years on the internet and the recorded meetings are available for listening later.
So, if a person can't get to an internet connection to hear a meeting live, the recording of the same meeting is generally available later that same evening.
In addition, specific sections of the meeting can be selected via the internet, rather than having to listen to an entire meeting just to hear one specific item of interest.
Estrada said there is also a cost savings associated with the internet recording system, which cost $3,700 to install.
"I used to copy 25 agenda packets and now it's down to seven," she said. Agenda packets can represent hundreds of pieces of paper each. By not having to make so many copies, Estrada said there is less time at the copy machine.
At the same time, she emphasized that paper copies of the agenda packet will always be available to the general public for those who prefer a hard copy or do not have the computer capability to listen to the meetings or download agenda items.
Estrada and Pam Sandifer, who reports the minutes of planning commission meetings, both said the new system is much more cost effective when it comes to providing a recorded portion of meetings as requested.
The previous tape system, Sandifer noted, was so outdated that parts could no longer be found for it. In addition, the tape quality was poor.
With the new digital recordings, Sandifer and Estrada both noted that reporting the minutes can be done in less time because of noise distractions and interference in the old tape system.
To listen in on a Sunnyside City Council meeting, or to review digital archives visit the city's internet website at www.ci.Sunnyside.wa.us/