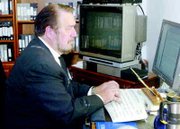 Some day in the not too distant future, there will be a place where people will be free to worship and praise the Lord with song and scripture 24 hours a day.
This is the vision of Pastor Regner Capener of the River Worship Center in Sunnyside. It's a vision he's had for 30 years. A vision the Lord gave him. He said he sees a need for this kind of ministry.
Capener is expecting to build within the next two years a worship center that will allow 15,000 people to worship together at one time. According to Capener, it will be a grand building with teams of people operating in shifts 24 hours a day in a 375-foot diameter domed building.
"The ministry has always been my primary focus and occupation, but I've made my living by building radio and TV stations," Capener said.
It all started for Capener when he moved to Alaska at the age of two. His dad would build churches and when Capener grew up a bit, he would help, too.
He began preaching publicly when he was just 16-years-old. Later on in life he operated the Christian Broadcasting Network (CBN) in Alaska, a job he held for seven years.
"We would go into small villages and build these little 100-watt stations," Capener recalled. "That TV station would service the village."
Once the station was built, it would be handed over to the people of the village, with the understanding there would be some Christian broadcasting offered on the station.
Before coming to Sunnyside earlier this year, Capener built a five-megawatt TV station in Texas for Telemundo.
After completing the station he came to Sunnyside to fulfill his vision. He worships and pastors at River Worship Center, a non-denominational church located at 700 S. 6th Street.
He worships with music.
"For 40 years the Lord has given me the ability to put scripture to music," he said.
He plays 30 different types of instruments but does most of his work on a Flamenco guitar, a small, lightweight, classical guitar. Scriptures are sung and music is played Monday through Friday, at 7 p.m. and Sunday, at 10 a.m.
The music is spontaneous. The Pastor explained many years ago a group of friends would gather in his home to worship with music.
Capener said origins of the group praising the Lord and playing music come from the days of King David. When David became King of Israel, he appointed three families to minister to the Lord. They were instructed to write and sing praises to the Lord.
Capener said the families played music and worshipped the Lord 24 hours a day, bringing Israel back to God. Soon, God was defending Israel against all of its enemies.
The gatherings at Capener's house started to get bigger and bigger. Eventually he moved to a ranch in Idaho, where sometimes 70 musicians and singers would gather.
"The Lord would inspire us to play," he said.
What came out was spontaneous music from the Lord. The musicians let the Lord tell them what to play and it all comes together. He keeps approximately 16 different recordings of music on CD at the River Worship Center.
Besides worshipping with song and music, Capener writes columns three times a week for two web sites, www.groups.msn.com and www.coffeebreakonline.com.
"I write about everything," he said. "My experiences with walking with the Lord and I share the insight the Lord has given me."
He said he also shares wisdom he has learned from different people he has known. His words reach between 400,000 and 500,000 people in 80 countries around the world. He's been writing for these web sites the last two years.
He is also a member of the Council for National Policy, based in Washington D.C. It's a conservative think tank, a grassroots policy making organization founded by former President Reagan. He's been on this council for three years.
For all his accomplishments and triumphs through his years, he still has one more to fulfill, and that's the worship center he envisions for the Lower Valley. Something Capener and his wife, Della, and their good friends Michael and Melissa Sharp and Robert and Sandy Storer, are hoping to see in the next two years.