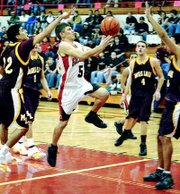 The Sunnyside boys basketball team's perpetual motion offense threatened early, before faltering in a close 71-68 loss to visiting 4A Moses Lake last Friday.
The 3A Grizzlies jumped out to a 23-18 advantage in the first quarter.
"The tempo of the game was almost perfect," said Coach Steve Urrutia. "It would have been great if we could have had that tempo all game long."
But the second stanza proved pivotal, as Moses Lake reeled of a 24-15 run to go up by four at the half.
Urrutia attributed the turnaround to a mix of his team's inability to keep the game constantly in motion, struggles with perimeter shooting and Moses Lake's advantage in the paint.
"Moses Lake is a very good team, very strong," said Urrutia, noting the Chiefs have a player, B.J. Guerra, who stands at 6-5 and weighs 275 pounds.
"We don't have anybody that can match up with that," he laughed.
That edge played out in the game's stats, as Moses Lake nearly had a two-to-one rebounding edge, 66 to 36 over Sunnyside.
Even so, Sunnyside whittled the deficit to one point late in the game, before the Chiefs found an answer to pull out the win.
"There was a little break here and there that made a difference," said Urrutia. "We had some really good looks (at the basket) but it just didn't go."
Jessie Montelongo paced Sunnyside with 16 points, four rebounds and three steals. Teammate Nathan Cornelius tallied 15 and hauled down a team-high six rebounds.
Also helping the Sunnyside cause were D.J. Palomarez and Adrian Cantu with eight points each, while teammate James Baysinger tickled the twine to the tune of nine. Hunter Van De Graaf also had four rebounds for Sunnyside.
The Grizzlies (0-1) play Wenatchee and Eisenhower this Friday and Saturday in two more non-league contests against 4A schools, but first up is a non-league trip to 4A Davis tomorrow (Tuesday).
Urrutia praised the tone his team set in the regular season opener against Moses Lake, in particular the drive to rally late in the game.
"We know we're going to chase a team right down to the end," he said. "That was a fine team we played. We went out and competed, and that's what we're after."