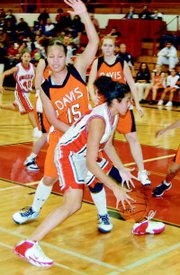 The Sunnyside girls basketball team jumped right in the waters of the new 3A/4A Columbia Basin League format with games last Friday and Saturday against a pair of 4A schools.
The 3A Lady Grizzlies opened the regular season with a 74-57 loss at Moses Lake on Friday.
Sunnyside opened strong and trailed just 21-20 after one quarter.
"We came out and shot the ball really well from the three," Coach Leo Gomez of the first stanza, in which Sunnyside dialed in from long range to hit four three-point shots. Kayla Rollinger opened the game with a pair of treys for the Lady Grizzlies.
Sunnyside also employed a man-to-man defense in the opening quarter and found some success.
Moses Lake turned the game around beginning in the second quarter with a 16-9 run to go up 37-29 at the half.
The hosts gradually pulled away in the second half, outscoring Sunnyside 20-16 in the third quarter and 17-12 in the fourth to earn the win.
"We just didn't do the things we needed to do," Gomez said. "We weren't moving the basketball and we missed some key shots under the basket."
Gomez credited Moses Lake's big front line-which has two players taller than 6-4-for some of his team's difficulties.
Vanessa Torbay had 17 points to lead Sunnyside and teammate Katie Wutzke tallied 15. Kayla Rollinger had 12 points and a team-high eight rebounds for the Lady Grizzlies, and teammate Marissa Gomez scored six points.
Kelsey Rollinger hauled down five boards and Torbay recorded four rebounds to help the Sunnyside cause.
Sunnyside's second game of the weekend was at home this past Saturday against Davis in a 60-47 loss.
Once again the Lady Grizzlies jumped out to a good start, as the score stood at 6-6 midway through the opening quarter.
But the visiting Pirates snatched momentum with a 16-0 run, which set the tone for the rest of the game.
Sunnyside tried to get back into the game, but couldn't shake Davis' first quarter run.
"We started hitting a couple of key shots and got within nine at one point," Gomez said. He also praised the Pirates' play, noting. "They're aggressive, they played us hard."
After the game, Gomez said his players realized the Davis contest was a possible win that got away from them.
"They realized it could have been a better game if we could have played stronger in the first quarter," Gomez said. "But we're still a very young team."
Kayla Rollinger recorded a double-double for Sunnyside with 14 points and 10 rebounds. Wutzke tallied seven points and Torbay six for Sunnyside.
Alyssa Sanchez had four points for the Lady Grizzlies to go with six rebounds. Teammate Sarasa Partida hit for five points.
Sunnyside (0-2) plays back-to-back games again this Friday and Saturday against two more CBL 4A schools-hosting Wenatchee this Friday and traveling to Eisenhower on Saturday.
The schools may be bigger than the 3A league foes Sunnyside will play later this year, but Gomez said going up against the 4A schools early in the year will only make his team better.
"This is going to help us compete and be mentally ready when the league games roll around," he says. "We just need to be tougher and play together as a team."