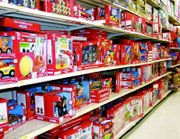 After investigating toys this past fall, the Washington Public Interest Research Group has released its findings in a "Trouble in Toyland" report.
Researchers looked for potential dangers in four categories: choking hazards, magnetic toys, loud toys and potential toxic chemicals.
According to their report, overall, the group found that most toys are safe and properly labeled. But they did find that some toys don't meet safety requirements, some small toys may yet pose a choking hazard, balloons are still being marketed toward young children despite the choking hazard, and many toys are either vaguely or overly labeled. Over-labeling toys dilutes the weight of the warning.
Researchers are encouraging parents to be vigilant this holiday season while purchasing toys, examining toys carefully.
When it comes to magnetic toys, parents need to be cautious with regard to the fact that, if more than one magnet is swallowed, two magnets attracted to each other can cause intestinal difficulties, such as perforation. This warning extends to magnetic jewelry, often used to mimic body piercing.
Loud toys can cause hearing problems and the group's recommendation to parents is that, if it's too loud for you, it's too loud for your child. Those who already own loud toys can put tape over the speakers to tone down some of the noise.
Lead was found in a small sampling of jewelry from dollar stores and major toy chains. Lead is particularly hazardous as high doses can inflict central nervous system and organ damage; low doses can impact a child's learning ability, as well as motor skills.
Play cosmetic sets can be problematic in that they may contain toluene and xylene. One such sample of nail polish contained both items and, according to the Public Interest Research Group, the problem is that once it's on the fingernails, the nails often go in the mouth. Low levels of toluene can cause confusion, weakness, memory loss and nausea. Inhaled high levels in a short period of time can cause the same symptoms, as well as unconsciousness or even death.
Short term exposure to xylene can cause irritation to the skin, eyes, nose and throat, as well as respiratory problems.
One of the most problematic toys on the market is the water yo-yo ball, which can wrap around a child's neck.
Scooters, too, can pose a risk. Researchers recommend that if a parent does decide to give a child a scooter, to make sure proper safety gear is included, and to advise children to ride them on smooth, paved and low traffic surfaces, and that children under eight should not use non-powered scooters without close adult supervision.
When it comes to looking for toys that contain potentially dangerous chemicals, like tattoos and play cosmetic kits, look for the following potentially dangerous chemicals on the labels: toluene, xylene, benzene, and dibutyl phthalate.
When looking at toys that could pose as a choking hazard, look for toys that break apart easily or contain small parts.
Lynda Jo Gross/Daily Sun News
Mattel, which manufactures Hot Wheels Monster Jam trucks, is under fire from the Public Interest Research Group for a warning they deem is too vague and confusing: "Small parts may be generated," which is found on this truck.
Lynda Jo Gross/Daily Sun News
Shopping for toys can be a daunting task, especially at this time of year when the walls are lined with them. The Public Interest Research group recommends those buying toys for small children pay close attention to the durability of the toy? Is it possible for small parts to break loose? Does it contain small parts?