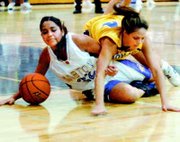 MABTON - Box Hill Senior Secondary College from Australia brought a bit too much firepower to the Mabton gym last night, as the Lady Vikings had no answer for the high flying, touring squad.
Led by 6'1" guard Amelia Todhunter, who poured in a game high 19 points, the Australians dismantled Mabton, 84-34.
For the Lady Vikes, Monday evening's game was their first regulation contest of the season. Mabton will take on a much more viable foe tonight (Tuesday) when the Lady Vikes travel to Royal City.
Last night, simply put, the Mabton girls were out-classed.
"They (Box Hill) probably could beat our boys team," chuckled Mabton girls coach Mike Roettger. "They're that good.
"They're all high school graduates who are attending a secondary college. They'd beat some community college teams we have around here," Roettger said.
The most impressive of the Australian players, Roettger continued, was the 6'1" Todhunter.
"To be that tall as a guard is one thing," he said, "But you couldn't believe her quickness. She's got world class speed. The kid's a player."
Despite being overcome by the visitors, Mabton did have a shining moment last night. It came just after intermission, when the Lady Vikes posted a 15-13 scoring advantage in the third quarter.
"It was the only quarter of the game we played to our level," said Roettger.
Sparking the Lady Vikings that period was the duo of Trishi Williams and Ana Jimenez. A 5'7" post, the sophomore Williams dumped in 10 of her team high 14 points in that quarter. A 5'6" guard, Jimenez added a five-point effort in the period, which included knocking down a shot from behind the 3-point line. The sophomore Jimenez, like Williams, finished in double digits with 11 points.
Box Hill, besides the 19 points it got from Todhunter, received 17 and 13-point performances from 5'10" Jess May and 5'7" Hayley Lloyd.
Roettger said although his team never really was in last night's game, his girls still benefited from the experience. "We got a lot out of it, as far as what it takes to play at that level."
The Mabton coach went on to give thanks to four local families who put the Australian girls up in their homes the past two nights-the Sotelos, the Williams', the Zavalas and the home of his parents, the Roettgers.
In looking ahead to tonight's game at Royal City, Roettger said his girls will try to counter the Panthers' height by pushing the ball up and down the court as quickly as possible. "We'll press and we'll run," he said.
Box Hill 27 22 13 22 -84
Mabton 7 10 15 2 -34
Box Hill: A. Todhunter 19, J. May 17, H. Lloyd 13.
Mabton: Campbell 0, Enriquez 0, Flores 3, S. Williams 0, Lupercio 0, Jimenez 11, Sotelo 0, Tellez 4, T. Williams 14, Cerda 0, Martinez 2, Reynolds 0.