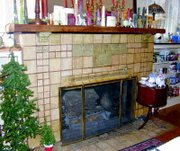 GRANDVIEW - A promise made to the third set of owners of Dykstra House has kept the structure in pretty much its original shape.
Dykstra House, which today is a restaurant and gift shop, was built in 1914 by the Howay family, who then owned a hardware store in town. The house then switched owners to the Palcom family, and then finally to Burt and Alice Dykstra, who owned the home for 50 years.
When Linda Hartshorn bought the house in 1984, she made a pledge to dear friend Betty (Dykstra) Stevens. "I promised her that I would keep it and take care of it."
And so far, that's been the case.
The home is now on the National Historic Registry, as well as the state of Washington's.
"In order to be on the national registry, a house has to be in good physical integrity, with no drastic changes made to it over the years," she explained.
How the home made it to the registry was actually from an effort by a committee, which included Carl L. Stevens, husband to Betty. With the support of then Mayor Dale Burgeson, the city hired an architect to go through the city and study certain homes that might make it to the registry. The recommendations had to go back to the committee for a yes or no vote. Dykstra House was approved. This all took place in the late 1980's.
The home even features its original Ernest Bachelder fireplace. "Bachelder was nationally famous for his fireplaces," explains Hartshorn. "There have been books written about his tile making." Hartshorn makes use of the fireplace every Friday and Saturday in the winter.
Hartshorn actually gave Dykstra House its name. "The Dykstras were so civic minded, I really wanted to honor them. I felt that something should be put in their name, so I asked the family and they said yes."
Hartshorn said she recalls driving by the home and repeatedly thinking, "Wow, I'd like to go in there."
Now, she's at the home almost daily, serving food and assisting customers with purchases from the gift shop.
Over time, Dykstra has made necessary upgrades to the sewer line, as well as electrical work. But, she's always kept her promise, and the spirit of the Dykstra's, alive and well in the home. "It's my labor of love," she says.
And with regard to the Dystras, she says, "You know, you never heard a negative word about them."