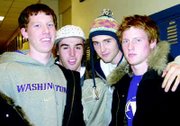 MABTON - Traveling basketball players from Melbourne, Australia made a stop over in Mabton this past Sunday and Monday evening.
The boys, visiting from their hometown of Boxhill, are taking in the sites and sounds of America while taking part in a basketball tour.
One of the first things they noticed while visiting the United States is the differences in how the sport is played.
"The rules here are different, especially the rebound rules," explains Aussie Andrew Morris. "You have softer calls for fouls than in Australia."
Adds basketball player Simon Bradbury, "If the ball touches the rim, you can't tip it in or out. I found that out the hard way."
The team has managed to figure out the differences in American basketball fairly quickly--they are undefeated at 6-0 thus far on their tour.
Mabton is the third stop so far on the tour. The boys first trekked to Hawaii, then on to Vancouver. Were they prepared for our shivering temperatures? "We were pretty well prepared for the cold, but we weren't expecting this," said Jerry Juric.
The boys did enjoy Hawaii. "The weather there is very tropical and there are a lot of palm trees," said Marvin Bayley.
The next stop for the group is Seattle, and there's plenty to be excited about.
First of all, they plan to attend a Supersonics NBA basketball game.
Secondly, they plan to trek to outlet malls and do some shopping. When it comes to brand name clothing, Brady Walmsley explains that the United States is first to get the latest fashions. "In Australia, we get them later, if at all." One boon to Seattle shopping is the fact that the boys are likely to go home with clothing articles that no one else in Boxhill will have.
Another noticeable difference for the group has to do with food. Says Morris, "There are a lot of fast food places here. There's not as much (at home). The quality of food is better in Australia. But the portions here are much larger. We noticed that more at McDonalds. We also get free (soda) refills. We don't get that in Australia."
The boys arrived in Mabton Sunday night and participated in what they call "homestay," spending the night in homes of local residents.
On Monday, they spent the day visiting various classrooms. Says Bradbury, "The studies here aren't that much different. But students are much more laid back in the classroom."
What's one of the first things they noticed about Mabton? "It's so small," said Juric.
Following their trip to Seattle, the Australian team will trek to Las Vegas, then on to Los Angeles. They'll attend college basketball practice at the University of Nevada.
Ryan Barnes has high hopes for what he'd like to see in L.A. "I want to see Kobe Bryant walking down the street."