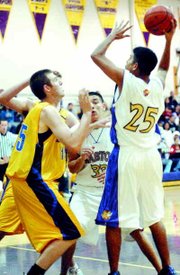 MABTON - The Mabton boys basketball team had an uphill challenge Monday night on their home court.
Facing a 7'0" center, two 6'7" forwards and two guards over six feet, the Vikings fell 78-39 to the Aussies from Box Hill Senior Secondary College of Australia.
"We were kind of overmatched," Mabton Coach Brock Ledgerwood said. "After watching them practice, we knew we would be outmatched physically and athletically coming in. Our goal was to out hustle them and to play our style of basketball."
Ledgerwood said the Aussies have one player who is coming to the U.S. to play NCAA Division I basketball and three others who will be playing NCAA Division II basketball.
The talent showed as Box Hill jumped out to a 21-10 first quarter lead. The Aussies turned their defensive heat up in the second quarter, holding the Vikings scoreless while padding their lead by 22 points.
"The second quarter was pivotal in sealing the fate of the game," Ledgerwood said. "We got away from the things we want to do to be successful offensively by giving into their size and standing out behind the arc and chucking up 3s."
At halftime Ledgerwood told his boys a win wasn't within reach but a quarter victory was.
"Our goal at halftime was to get back to playing Mabton basketball and to win the third quarter," Ledgerwood said. "Point guard Juventino Morfin responded to the halftime challenge with high energy and leadership that pulled the team together and sparked us to a four-point third quarter victory."
Behind the play of Morfin, the Vikings outscored the team from Box Hill 18-14 that period.
The Aussies outscored the Vikings in the fourth quarter, 23-11, but Mabton kept attacking Box Hill's large line-up and was able to get to the free-throw line.
"Overall I'm pleased with the intensity and effort our kids gave us last night," Ledgerwood added. "The score may have been lopsided, but the effort was not. All 10 guys contributed for us. This teamwork and effort will be key to our success throughout this long season."
Morfin and Eric Tellez led the Vikings with 10 points apiece. Tyler Herrera and Frankie Smith each added five points.
Ryan Barnes led the team from Box Hill with 29 points.
The Australian team is on its summer break and is touring the Western United States playing basketball. They spent half of the day Monday going to class with Mabton's basketball team and stayed with team parents for two nights.
The Vikings (0-0, 0-1) will travel to Royal tonight for a game at 6 p.m.