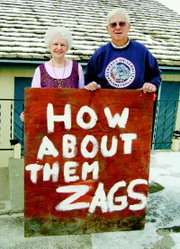 Not sure how the Gonzaga men's basketball team is doing this year?
Well, if you need a reminder just head up Grandview Avenue in Sunnyside where George Johnson periodically posts signs to monitor the Zags'-and his grandson's-progress.
Johnson and his wife Carol are the proud grandparents of 6-11 Gonzaga forward Josh Heytvelt, a sophomore from Clarkston who is averaging 17 points a game for the Spokane-based university's mens hoops' team.
When the Zags upset then second-ranked North Carolina at New York's Madison Square Garden earlier this season Johnson posted a handmade sign that said "How about them Zags?"
When they were in turn upset by Butler two days later, Johnson's one word sign said it all, "Oops."
The Johnsons say they didn't follow sports all that closely before Heytvelt put on a Gonzaga uniform.
That's all changed now.
"When my grandson started playing I got interested," smiled George, wearing a Gonzaga sweatshirt.
"When that one kid knocked him down and he still made the basket I was so excited," Carol said of a hard foul Heytvelt experienced during the win over North Carolina.
The Johnsons figure Heytvelt came by his basketball talent naturally, with a healthy dose of hard work.
"When he was a kid he was always bouncing a basketball," Carol recalled. Heytvelt's father, Rolin, is 6-5 and George noted how the family frequently played basketball during Heytvelt's formative years growing up in Clarkston.
Heytvelt was heavily recruited upon graduating from Clarkston High School, where he set school career records in scoring, rebounding and blocked shots. He was the state's Class 3A player of the year three years running.
George said his grandson at one time had his eyes set on attending the University of Washington. But a visit to the smaller by comparison campus of Gonzaga University changed his mind.
"He was always a small town boy," George offered. "I think he wanted to be closer to home."
Family ties of another sort have helped settle Heytvelt into one of the WCAC's dominant big men.
After a disappointing freshman season, Heytvelt and his girlfriend had a baby daughter and that, say his grandparents, has made a world of difference in his outlook.
"When he became a father I think he realized he better get serious about studying and his game so he can support his little girl," George said.
Heytvelt has gotten serious, all right, causing some Zag fans to think of him as the team's new Adam Morrison.
George said he's had a chance to sample in person just how serious the Zag fans are about their basketball.
"It was a madhouse," George chuckled as he recalled a game he attended last year. He described how 600 students formed an outdoor party three or four days before the game started.
George said he might get to a game this year, too.
But until then he and Carol will root for their Zag grandson on the TV wearing their Zag sweatshirts and posting their updated Zag sign in front of their house.
But there are limits.
Would they, for example, consider painting their house with a Zag color theme?
"Oh no," laughed Carol. "We wouldn't go that far!"
Actually, you could say they've already gone far beyond that.
After all, for these two retirees who previously could care less about sports, their entire world is colored anew with the exploits of their grandson and their newly adopted team, the Gonzaga Bulldogs.
How about those grandparents?