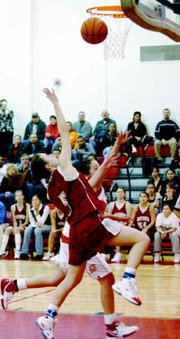 GRANGER - Looking to finish non-league play undefeated, the Grandview girls basketball team visited the Granger Spartans last night, but lost 51-44.
The Greyhounds jumped ahead early in the game and led 9-6 after one quarter.
Then, behind the play of Emily Carpenter, the Spartans mounted a comeback, outscoring Grandview 13-6 in the second quarter to take a 19-15 halftime lead.
"We weren't playing as a team," Grandview Coach Tarah Troutman said. "We turned the ball over a lot."
In the third quarter the Greyhounds used their size to push the smaller Spartans around. Using timely steals, Grandview used the third quarter to get back into the game, outscoring Granger 14-11 in the quarter and pulling to within one point, 30-29, heading into the fourth quarter.
The final quarter saw both teams battle back and forth for the lead. When Grandview would tie or get close, Granger always had the answer, usually in the form of a three-pointer. Granger hit all five of its three-point shots in the game.
"They (Granger) did a good job of packing the key," Troutman said. "We needed to take it to them and be more physical."
The Lady 'Hounds worked hard to catch up in the fourth quarter but their march was halted by Granger's three-points shots.
"We weren't able to recover from that," Troutman added.
The Spartans outscored the Greyhounds 21-15 in the final quarter to hand Grandview its first loss of the season.
"Granger played well," Troutman said.
Kinzi Poteet led the Greyhounds with 15 points on 7-of-9 shooting from the floor. Cristina Meza and Anastasia Andrews each added 8 points for Grandview. Andrews added three assists and two steals while Meza added three steals. Danica Rodriguez had five points for Grandview and Marissa Herrera and Christine Penwell each added two points for the Greyhounds.
The Lady 'Hounds shot just 5-for-15 (33 percent) from the charity stripe and the Spartans were 12-for-19 (63 percent).
"We need to play as a team and execute our plays," Troutman said.
She added she would like to see her girls become a little more physical on the floor.
Grandview's girls (0-0, 1-1) will start league play Thursday, Dec. 7, when they travel to Ephrata for a 6 p.m. game.