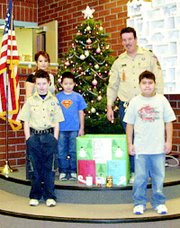 MABTON - Mabton Boy Scouts Pack #623 is holding a food drive to benefit needy families in the community of Mabton. They are working in conjunction with Jessica Prieto, the Community Outreach Coordinator for Artz-Fox Elementary. She has coordinated efforts with the Yakima Valley Farmworkers Clinic to ensure families receive food collected for the holidays.
The Boy Scouts of America has launched a campaign called "Good Turn for America - Meeting the challenges of the 21st Century." This campaign is to fight hunger among the more than 13 million children in the nation who go to bed hungry. Often the families of these children are on limited incomes and cannot afford well-balanced diets. So, in support of communities and the agencies serving these families, the Boy Scouts of America has initiated this campaign to collect food for such families in need.
Those who would like further information on how they might be able to help or donate food are asked to contact Charles Bowling, cubmaster for Mabton Pack #623 at 509-894-4448. Or, you may visit the Boy Scouts of America web site: www.goodturnforamerica.org.