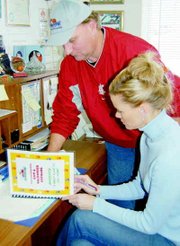 GRANDVIEW - Looking for the gift that keeps on giving?
The Grandview Parks and Recreation Department has some suggestions in their new gift and volunteer opportunity catalog released just in time for the Christmas shopping season.
Parks Director Mike Carpenter says the catalog is "just a way to give our service groups and citizens ideas of how they can assist the Parks and Recreation Department to make our programs run more successfully."
Carpenter added, "A lot of people have energy and expertise, but don't know where to apply it. We embrace them with open arms."
Catalog "gift" items run the gamut from picnic shelters and playground equipment to benches and rose bushes for the city's parks.
The gifts can also be donated in memory of a loved one, Carpenter said, noting that in some instances there may be the possibility of placing a plaque to honor the person.
Volunteer opportunities listed in the catalog include helping out at the senior center, coaching a youth team and serving as a docent for the R.A. Powell Museum.
Carpenter said the city will approach service groups in the Grandview community requesting their help volunteering or purchasing gift items for the city.
He also noted that some of the volunteer opportunities could provide community service experience for youths seeking their Eagle Scout pin. Carpenter estimates the parks department has in the past helped 10 boys earn their Eagle Scout designation with various projects around the city.
For more information on helping out with an item or items in the gift catalog, contact Carpenter at 509-882-9219.
This is the first year for the catalog, says Carpenter.
"It gives people a sense of ownership of their community," he says of the gifting opportunity. "If there's something they want to do that's not listed on the catalog, we'll work with them."