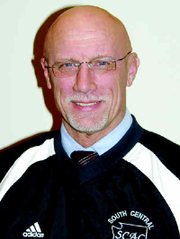 MABTON - Mabton Junior/Senior High School Vice Principal and Athletic Director Denny Brown has been named the South Central Athletic Conference Vice Principal of the Year.
Brown was bestowed the honor by fellow South Central principals belonging to the Association of Washington School Principals at a recent meeting.
Explains Mabton High Principal Jay Tyus, "There was an overwhelming sense at the meeting of the respect the South Central principals have for his work.
"His integrity is incredible. As a human being, he is as fine a man you'll ever meet."
Tyus said that Brown is known for developing meaningful relationships with students, while still being able to hold them accountable for their behavior.
Mabton's leadership set-up is different than that of other schools. Brown focuses on being a leader in the building, much like a traditional principal.
"He keeps the building going while I keep the teachers growing," Tyus said. "He is phenomenal. He could take on a principal position anywhere."
"It was a well deserved award. We couldn't do what we do without him," said Tyus.
Brown now has the option of pursuing the award at the state and national levels.