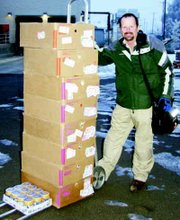 Early mornings are the norm for Frito-Lay route salesman Jim Milsaps and he doesn't mind it one little bit.
"I've been doing it for so long, I'm used to it. And it's really nice, especially in the summertime, because then I've got time to golf."
Milsaps has been working for Frito-Lay for 20 years, but he hasn't always been situated in the Yakima Valley.
"I worked in California for 16 years and I've only been in the valley for four," he explains.
Why the valley? "I wanted to find a place I could retire at and didn't want to retire in California," he said.
What's kept him going for 20 years is the fact that he enjoys his job. "I'm a people person and I like dealing with all my customers out here."
Milsaps is used to long-term service for a company. Previous to his stint at Frito-Lay, he sold investments to school employees for 14 years.
His day typically begins when he rolls out of bed at 3:15 a.m. and hits the road. There's no set time that he gets to log off the clock. "When you're done, you're done. It's usually about 10 hours a day."
His job duties include writing orders for stores, loading his truck and then off he goes to make deliveries.
"I drive about 50 miles a day," he said.
He hasn't always had his current route, making deliveries to Prosser, Grandview and Sunnyside. And that's where his job opened up the door for his love interest.
A few months ago, Milsaps' schedule and route changed from having Saturday and Sundays off to Fridays and Saturdays.
"When I first got my route, God was saying, 'You're going to have a change in your life.' I wasn't happy about it, I enjoyed my days off."
Sure enough, he was bound to learn God's plan within the first week on the job, when he met his fiancee, Safeway store employee Lisa Fritz.
"My first week on this route, I saw her. Didn't talk to her, just saw her. And I felt just like a high school kid."
He learned her name was Lisa by her name tag. After greeting this "pretty lady" by name daily, she finally asked him his name.
"I took her hand, I kissed it and said, 'My name is Jim."
The rest, as they say, is history and a wedding is in the works, likely in May.
So what does this early bird enjoy doing with his down-time? "I love spending time with Lisa and her daughter Brandi. It's funny because before I used to enjoy golf, football, etc. Now I just love to spend time with Lisa and Brandi, doing all kinds of things together as a family."