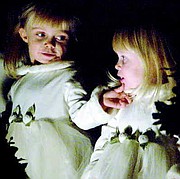 Generally neurosurgeons don't request your presence unless something fairly major has gone wrong with your brain. That fact made my friend Jason predictably uncomfortable as his doctor told him "you need to make an appointment to see the neurosurgeon" but declined to explain why.
Given the anxiety caused by not knowing whether he had some sort of brain defect, tumor or other horrible illness Jason, of course, wanted to make this appointment as soon as possible. Unfortunately, the neurosurgeon had a vacation planned and was unable to squeeze him in for three weeks.
As you might imagine Jason spent those three weeks assuming he had a problem so fatal that it wasn't even worth rushing him to the doctor. What had started as a brain scan to find an explanation for random dizziness turned into a terrifying wait to find out exactly how he was going to die.
Fortunately, Jason's more-than-justifiable paranoia proved unnecessary because when he finally saw the neurosurgeon and was diagnosed with a benign cyst on his pituitary gland. Although the situation would have to be monitored regularly, it was not life-threatening and could be corrected if it caused problems in the future.
Jason's experience, however, details a common problem within the medical profession. Too many doctors have such complete disregard for their patients that they think nothing of keeping them waiting for test results or suggesting that they go for ominous consultations without explaining why.
Certainly doctors should not needlessly alarm their patients by running through worst-case scenarios before ordering tests, but basic explanations and reassurances would go a long way. If my doctor wants me to have a heart scan to rule out a problem in that area because he suspects my troubles lie elsewhere than he should tell me that. If he wants the test because he suspects heart disease, than I have a right to know that as well.
Nearly everyone who comes into contact with the medical profession has a story of being left frightened by doctors who say too little. Even in simple cases of routine tests, too many people are made to wait over weekends for results after being told "the doctor would like to speak with you," but never getting the call.
In my case it was a recent routine blood test when, after a bout with strep throat that led to flu-like symptoms and a weird rash, my doctor ordered a test for mono. While having mono would not kill me, it would require a fairly large lifestyle modification for a few weeks and would be decidedly inconvenient, so I was eager to know whether I had it.
During my blood test the doctor told me that I should be called with the results by early the next morning. If I did not get a call by 2 p.m. he said, I should call the office and "yell and scream."
Not wanting to anger any of the support personnel at his office, I actually waited until 2:45 to call requesting an answer. At that point I was told someone would call me back momentarily. Of course, nobody did and I waited until a few minutes before 5 p.m. to try again.
During that call, I was placed on hold for 16 minutes after which a receptionist - not the one I'd been speaking with earlier -picked up the phone and said "hello, how can I help you?" This led to me explaining what I was looking for in less than polite terms which resulted in four more minutes of holding before a nurse came on to tell me that I did not, in fact, have mono.
Everyone understands that doctors and their staffs have a lot of work to do. Being busy, however, does not justify keeping patients waiting for test results or leaving them in the dark as to their conditions. Doctors may be highly trained, but they are still in the service industry and providing service in their case means worrying about their patients' mental state as well as their physical well-being.
Daniel B. Kline's book, "50 Things Every Guy Should Know How to Do," is available in bookstores everywhere.