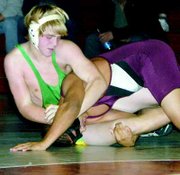 GRANDVIEW - The Grandview wrestling team, still short-handed with five players ineligible until this coming Saturday, lacked the muscle power against Quincy last night in a 51-27 dual meet loss at home.
Most of Grandview's success came in the mid to heavyweight weight classes as the 'Hounds captured four-of-six matches at 152 lbs. and heavier.
But the Greyhounds were light in the lightweight classes as Santos Guillen (103 lbs.) provided the only victory in weight classes of 145 lbs. and below.
Other victories for Grandview came at 152 lbs. when Greg Gonzalez pinned Quincy's Breck Webley.
Jacob Robillard earned a pin for Grandview in the 171-lb. weight class over John Gottschalk, garnering the victory in just 65 seconds. Grandview's Adrian Jasso (215) made even quicker work of his Quincy opponent, David Marquez, by recording a pin in 34 seconds.
Rounding out the Greyhound win column was Joe Rodriguez (275), who pinned Max Melburn in 2:54.
The most closely fought match of the night was at 160 lbs., when Grandview's Isaac Alaniz built a 21-15 lead over Kyle Arnall, only to lose by a pin with just five seconds remaining.
"Isaac ran out of gas and got turned right at the end and got pinned," said Grandview Coach Jeff Sevigny. "I saw a lot of good things out of him, but it was kind of a heartbreaker to come that close."
Other Grandview wrestlers downed by the Jackrabbits were Garrett Walker (119), Spencer Blanshan (125), Storm Shea (130), Luis Valdez (135), Marcos Torres (145) and James Whitney (189).
Quincy also received two forfeits from Grandview.
"It went pretty much the way we thought it would," Sevigny noted. "I think if we'd been at full strength we would have had a shot at beating them."
As far as his five winning wrestlers, the coach noted, "They all looked real solid. They're kind of the core of our line-up and they carried their weight last night."
Sevigny is looking forward to having his squad at, or near, full strength for tomorrow's Ephrata Invitational.
"It's a pretty tough tournament," he said. Yet, he's hopeful the experience for his youthful line-up will pay in the long-term.
"Our target is the postseason and trying to get the kids ready for State," Sevigny said.
.