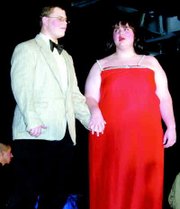 GRANDVIEW - Grandview High School students have worked tirelessly to present "The Pink Panther Strikes Again," and it shows.
The choreography in this comedy is unrivaled to anything I've ever seen in a high school production.
In fact, I've never seen such a physical play. Director Melanie Manship conceded that this effort was the most physical comedy she'd ever taken on.
The sound crew is to be commended for its timing and ingenuity. The play features many musical pieces, perfectly chosen and comically timed.
When Inspector Clouseau and his house boy Cato start to scuffle, the audience is treated to the song "Kung Fu Fighting." My son and I sang it on the way home. Most of the music from this play got stuck in our heads.
Kudos to Angie Johnson for some ingenious set designs, my favorite was the lounge scene where we heard the musical talents of a female impersonator.
Which brings me to my next point. While the acting on everybody's part was excellent, there was one actor who absolutely stood out and makes the audience beg for more scenes. He's Nate Fleming, an excellent character actor. I'm willing to bet dollars to donuts that Nate's heard this said about him more than a time or two, "Oh that Nate, he's such a ham."
Fleming plays Jarvis, the butler. Rather, his day job is butler and his night job is female impersonator. Take my word for it, Fleming's scene while he's dressed up in woman's garb and sings "I Got You Babe" with Aaron Johnson is reason enough to see this play.
If you're looking for quality, comedic entertainment, Grandview High School's production of "The Pink Panther Strikes Again" is it.
And don't be wary of taking your wee ones, little kids love this show.
"The Pink Panther Strikes Again" will be performed this Friday and Saturday at 7 p.m. in the Arthur H. Smith School in Grandview.