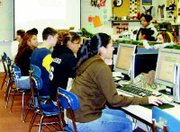 Members of the Sunnyside High School Future Business Leaders of America (FBLA) have been actively seeking projects to better serve their community. The vice president of the group devised an idea to support the troops over the holidays.
"She approached me with the idea of sending postcards to the troops," Susan Klaus, SHS FBLA advisor, said of Samantha Monterrey.
"I felt it was important for them (the troops) to know they are important to us and to know we appreciate them ... especially with the holidays coming," Monterrey, the chapter's vice president, commented.
Another faculty member had been browsing the internet for ways in which she might be able to support the troops and found a web site sponsored by Xerox for exactly that purpose. "The web site is LetsSayThanks.com," stated Klaus.
As a result of the efforts of Monterrey and the faculty member, Klaus decided utilizing the web site would be much easier and cost-effective than buying post cards.
FBLA members placed posters around the Sunnyside High School campus, informing other members of the student body that they could participate in emailing postcards to the troops on Thursday, Dec. 7, from 2:30 to 3:30 p.m. FBLA further encouraged student participation by offering candy canes and juice.
"This is entirely voluntary on the students' part," stated Klaus. "We thought it would be a very direct way of letting the troops know we care."
Klaus was very positive about the fact that 18 students had shown up in the first five minutes of the effort.
In talking with participants, Eva Briones stated, "I am doing this because I think I am really patriotic. I am happy to know I can send something to the troops to let them know I care." She was appreciative of the FBLA offering the time and effort to allow students such as herself to participate in the program.
Everyone agreed the site was very helpful to them and they appreciated the ease of use. The site provides a variety of postcard designs to choose from, which was another plus with the participants.
&nbsp