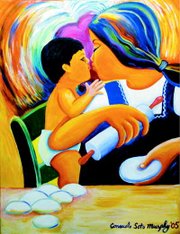 TRI-CITIES - Consuelo Soto Murphy, a 1979 Sunnyside High School graduate, is one of 12 artists exhibiting work during the Tri-City Artists' Open Studio Tour this Saturday and Sunday, Dec. 9 and 10.
The daughter of Regino and Martina Soto, Murphy received degrees in art education and studio art at Eastern Washington University and now teaches art at Richland High School.
According to her website, www.sotoart.com, Murphy "has been painting all her life but recently started a series of work that reflects her heritage as a migrant worker in the Lower Valley."
Some of those works include paintings titled "Making Tortillas" and "Corn Woman". Murphy will display those works and other watercolors and acrylics at 1509 Sanford in Richland during this weekend's open studio tour.
The 12 artists will display their work at eight studios around the Tri-Cities during the weekend event.
"We have fiber artists, watercolorists, metalsmiths, sculptors, weavers, fabric artists, glass blowers and myself-an acrylic painter," Murphy said via e-mail. "The public is invited to come by to look and visit with the artists."
The tour is free to the public and is open 11 a.m. to 4 p.m. both days.
Other studios participating in the tour are at 57204 N. Sunset Road in Benton City, 631 Lynnwood Loop in Richland, 1931 Davison Avenue in Richland, 337 Westmoreland Drive in Richland, 2141 Van Giesen in Richland, 8458 W. Gage Blvd., Suite C, in Kennewick and 2021 W. 19th Avenue in Kennewick.
For information on the Open Studio Tour, a map of locations or a description of other artists involved log on to www.chriswalling.com and click on the Open Studio Tour icon.
graphic courtesy Open Studio Tour