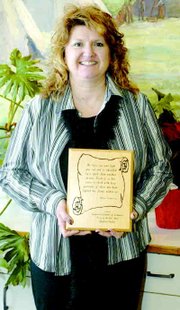 GRANDVIEW - Grandview Chamber of Commerce President Gaylene Tucker got quite a surprise last month when she was named Grandview's Person of the Year for 2006.
"I was overwhelmed," she said of being named. "I was in shock and honored. It's a huge honor."
Tucker was on the executive board that counted the nominations for person of the year. When she realized she had won, she wanted to give it to someone else. She thought the honor should go to someone else so she picked the person who received the second most number of nominations.
The Grandview Person of the Year is picked by how many nominations are sent in for that person.
Modesty might have made Tucker take her name out of the running but she said the person she picked deserved it as much as she did.
But the rest of the executive board felt differently.
Becky Ruppert and Mike Bradshaw thought Tucker's decision should be overridden. They got together with the other members of the chamber's executive board and decided they would award Tucker person of the year, since she won it originally.
"She really deserved it," Ruppert said. "The times she's put in has been incredible. She goes above and beyond what past presidents have done. She has chaired or has been involved with every committee in Grandview except for one, the Grandview Grape Stomp."
During the Grandview award ceremony on Nov. 16, it was Tucker who was announcing the names of the winners of the different awards. When it came time for the person of the year to be announced, Kristin Denny, vice president of the Chamber, nudged Tucker aside and announced the real winner.
"It was all I could do to keep from crying," Tucker admitted.
Tucker has been a member of the chamber since she and Ruppert opened their business, Consumer's Choice Insurance. Tucker said she enjoys participating in Grandview events.
"It's rewarding," she said. "You can look back and see what you've accomplished."
Tucker will have the honor of being the Grand Marshal during the Yakima Valley Fair and Rodeo Parade next August as part of her person of the year duties.