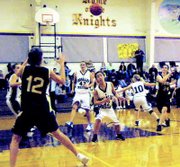 The Sunnyside Christian High School girls basketball team split a pair of non-league games this past weekend.
Last Friday, the Lady Knights beat up on Mount Vernon Christian, 66-19.
According to Coach Al Smeenk, the game was not very competitive. He was able to play all 10 girls on the Lady Knights' team throughout the entire game.
Smeenk reported the Lady Knights started their game against Mount Vernon Christian in a full court press and switched to man-to-man early on. "We didn't shoot until the last 10 seconds on the shot clock," he commented.
Andrea Schutt placed 14 points on the board as the top scorer in the game for the Lady Knights.
Saturday morning was a different story. "They beat us!" Smeenk said of his alma mater, Shoreline Christian High School.
The score of Saturday's game ended at 51-37. The closest the Lady Knights came to Shoreline Christian in the second half was within six points in the final four minutes of the fourth quarter.
"They came out very intense and we came out very lethargic," Smeenk lamented. He continued with the opinion that the game was "very surprising and disappointing."
The top scorer for the Lady Knights (3-1) was Tori Van Wingerden, putting up 22 points in the game.
Smeenk did report the club gathered in 34 rebounds in the game. Of the 34 rebounds, Melanie VanWingerden was responsible for 10 of them. Shoreline Christian, however, managed 16 steals in the game.
Coach Al Smeenk attributes part of the loss to Shoreline Christian to Saturday morning play, but said he really didn't understand why "We didn't match their aggressiveness."
The next game for the Lady Knights will be this Tuesday night at Klickitat. This will be the first game in league play for Sunnyside Christian.