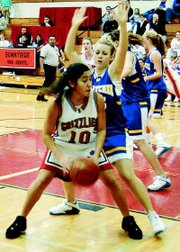 The Sunnyside girls basketball team is halfway there.
The Lady Grizzlies gave a pair of 4A teams a tough battle for the first half before dropping two non-league games over the weekend.
At home on Friday, Sunnyside led throughout before Wenatchee rallied for a 58-55 win.
"We came out and played really well," said Sunnyside Coach Leo Gomez. "We were ahead all the way and let them back in the game."
Sunnyside led by four in the final quarter, when Wenatchee stormed back to take a six-point lead midway through the stanza.
The Lady Grizzlies battled back to make it a one possession game. "We hit a couple of threes," Gomez noted.
Even so, Wenatchee had a chance to ice the game, leading by three with 16 seconds to play and given two free throw attempts.
Sunnyside received a second life when Wenatchee missed both free throws. The Lady Grizzlies had an open look for a three-pointer to force overtime, but it went awry as Wenatchee got out of town with the win.
Sarasa Partida scored 11 points to lead Sunnyside and teammate Kayla Rollinger scored eight.
On Saturday, the girls traveled to Eisenhower and forged a one-point lead at the half before losing 67-48 to the 4A Cadets.
Rollinger helped the Lady Grizzlies to a quick start, scoring on offense while forcing an Ike player into foul trouble.
"Kayla created some problems for them, she had a really good game," said Gomez.
Ike adjusted in the second half, employing a box-and-one defense to keep Rollinger away from the hoop.
The strategy worked as Ike rolled to the win.
"They took Kayla out of the game and made us shoot from outside," Gomez observed. "If we hit our shots the game is ours."
As it turned out, the Lady Grizzlies struggled from the perimeter, making fewer than 20 percent of their three-point attempts.
Gomez also noted that his team did not respond well in the second half to Ike's second half defensive pressure.
Rollinger tallied 15 points and hauled down nine rebounds to spark Sunnyside. Teammates Vanessa Torbay and Katie Wutzke each scored 10 points to help the Sunnyside cause.
After the second-half struggles that accompanied last weekend's losses, Gomez said he told his team, "We need to play all four quarters."
Gomez said some of the second half woes are because his team is so young. "It will take some time, but I'm pleased with what I see."
Sunnyside (0-4) travels to play 2A Selah tomorrow (Tuesday).
"We're coming around little by little," Gomez noted. "I think down the road it (the experience playing 4A schools early in the season) will make a big difference in the league games."