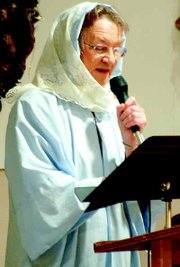 PROSSER - "Did you ever have one of those days where everything was perfect?" a guest speaker asked during the Lower Valley Christian Women's Club luncheon on Monday.
The guest was describing the engagement to her husband Joseph.
But then, with her voice cracking, she described how she had to overcome the doubt and uncertainty her parents and Joseph felt when they learned she was pregnant.
It wasn't Joseph's child and she was still a virgin. The child, an angel told her, was the long-promised Messiah.
So began a presentation by Judy Buckley titled "Through Mary's Eyes," which retold the Christmas story from Mary's perspective.
In costume, Buckley as Mary shared the joy she experienced when she received confirmation of the Christ child growing within her by visiting her cousin, Elizabeth.
She shared the struggles she and Joseph experienced in finding a place to stay as she prepared to give birth to Jesus.
And she shared the miracle of Christ's birth, as well as the dramatic realization that the baby she held was both her son and her Saviour.
The moment was also tinged with sorrow.
"A great sorrow had taken root," she said.
Noting that all parents wonder what the future holds for their children, she explained, "I knew exactly what the future held for him. I loved and cared for my son as he grew into a man and died for sins he never committed."
Prior to Buckley's moving presentation, the club held a light-hearted gift exchange in the spirit of Christmas and, in another perspective on the Christmas story, Lainey Rodriguez sang "Do You Hear What I Hear?"