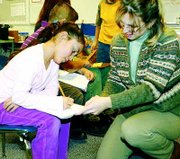 Sherie Matthews started learning sign language when she was two-years-old.
Born in Yakima, Matthews said that's the age her family found out she was deaf and she spent her third and fourth years learning the signs that would get her through the rest of her life.
"It wasn't hard to learn how to sign," Matthews said through an interpreter at Sunnyside's Washington Elementary School, Debbie Pittillo. "My mom taught me."
She said at the elementary school she went to in Yakima there was a deaf education teacher and having a specialized instructor around made learning how to sign a lot easier.
That's why Matthews now works as a deaf education teacher's aide in Ty Thornock's deaf education class at Washington Elementary School in Sunnyside.
"I came here to help deaf children and to help improve their signing," she said.
There are eight students in the deaf education program at Washington Elementary School. The ages range from kindergarten to the fifth grade. Matthews helps the students with their American Sign Language (ASL) and their ability to express themselves with ASL.
"Because she's a deaf adult who signs well, she has been a role model to the students to sign well," Thornock said.
He explained that ASL can be a challenge. The language is fairly uniform throughout the states but signs will change from region to region, especially with newer words.
"There are four or five different signs for e-mail," he said.
The students take the same classes and learn the same subjects as hearing students, just at a slower pace.
"The students have reading, math, writing and art time, it's just presented differently," Pittillo added.
Thornock said most deaf students are slightly behind hearing students in their classroom work. This is because most deaf students aren't taught how to communicate until they are two or three years old. Babies that can hear start learning language from day one.
Thornock said Matthews helps out with his signing as well. He hasn't been signing that long and she helps him get it right.
"She's able to communicate with the kids well so she's able to help out in a lot of different areas," Thornock said.
Matthews is in charge of a reading group where she makes sure the students are progressing. She also works with them on math concepts.
She will also spend time with them doing activities such as acting out messages. This teaches the students to be more expressive and to communicate clearly using body language.
She said most of the students know sign language but if they don't, it's not hard to teach them. One student is from Mexico and the language used there is slightly different.
She said she likes playing games with the students that help them. She likes working with the students, something Thornock echoes.
"It's great," he said. "It's a challenge but very rewarding at the same time."
Matthews said the deaf students are just like other kids.
"They're normal kids with normal behaviors," she said. "They have arguments, cheat and horseplay around."
Just like everyone else.