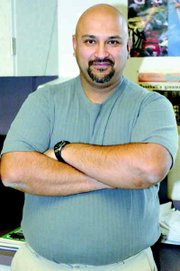 John Gutierrez's approach to baseball is simple.
"I try to teach kids about life using baseball," he explained. "Hopefully we're going to win some games during the process."
Gutierrez is the new coach of the Sunnyside High School baseball team. He brings with him 19 years of coaching experience, a desire to teach and a desire to win.
He's spent the last three years teaching and being the assistant varsity baseball coach at Aztec High School in Aztec, N.M.
During Gutierrez's first year at Aztec High School he helped coach his team to a state runner-up finish. The next two years his team went to the playoffs but struggled. He is hoping to bring the Grizzlies into the playoffs this year and years to come.
"Looking at the athletes we have here I think we can compete," he said.
Gutierrez played high school ball for his dad at Bloomfield High School in Bloomfield, N.M. After graduation, he earned his teaching certificate at New Mexico State University. He then spent the next seven years teaching at his former high school and coaching baseball with his father, who is somewhat of a legend in Bloomfield.
Gutierrez said his dad has more than 500 victories and the baseball field at Bloomfield High School is named after him.
What brought Gutierrez to Sunnyside? The answer is baseball.
"We (Gutierrez and his family) were looking for head coaching baseball jobs around my hometown," he said. "It was kind of closed off so we expanded our search and ended up here."
So he packed up his things and moved to Sunnyside with his wife and three children.
"I really like it so far," he added. "The people are really nice. We really like the area."
They like the area now anyway. At first, he said, the humidity here in Eastern Washington was almost too much for him and his family. He said in Sunnyside there is about 20 percent humidity compared with the 6 percent he was used to in New Mexico. He has since gotten used to the humid climate in Sunnyside.
"I owe a lot to them (his family) for letting this move happen," he said. "They really sacrificed and they've been real supportive."
He takes over the coaching reigns from Dave Martinez, who has made the transition for Gutierrez a little easier.
"I've talked a little with him," he said. "I checked with him on how he ran things. He's helped me out with a lot of the details."
He's also been learning about the competition Sunnyside will be facing this year.
"There are some big schools in the new Columbia Basin League," he admitted. "Lots of 4A schools, which is good. If we want to be the best we have to play the best."
Gutierrez helped out with freshman football this year and he said what he saw there and what he's seen so far of the basketball season, he's been impressed.
"We're not as big typically as some other schools so we probably won't be hitting a lot of home runs but I think if the kids work at it, we can be competitive.
"We've got to throw strikes," he added. "There will be a big emphasis on that and playing defense. If we can keep the other team from scoring, we got a pretty good chance."
Gutierrez said there will be a pre-season meeting sometime in January when the students come back from holiday break. The first practice for baseball is Feb. 26.