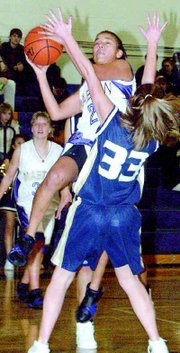 MABTON - Big things often come in small packages. Such was the case last night, when 5'5" sophomore guard Kayla Campbell tallied a triple-double to spark the Mabton High School girls basketball team to a 52-46 overtime victory.
Campbell-who finished with 10 points, 10 rebounds and 10 assists-poured in eight points in the final two minutes of regulation to help send the game against visiting Moses Lake Christian into overtime.
"We were down by five there at the end," said Mabton Coach Mike Roettger. "Kayla hit two big 3's for us and a couple of free throws to help us get into overtime.
"She stepped up in crunch time," Roettger added.
Once the non-league game went to OT, it was 5'6" sophomore guard Ana Jimenez who took over. The Lady Vikings' leading scorer this season, Jimenez broke free from the double coverage she had been seeing most of the night and dropped in six of her game high 16 points.
Roettger fully expected his club to handle Moses Lake Christian without needing an overtime session, and was a bit disappointed with the effort he received from the Lady Vikes.
"We really only played about six minutes of a 36-minute game," he said, noting there were too much standing around by his players.
"I guess the best thing that came out of this is we needed to see if we could pull out a close one. We were able to, so I guess we're maturing a little bit," Roettger said.
Mabton (3-2) opens its 1A league schedule next Tuesday at home against White Swan. Roettger said a victory over the Cougars is needed if Mabton is to have a realistic shot at advancing to postseason play.
"It's a big game for us," he said. "We expect them to throw a 2-3 zone defense at us. White Swan also has one of the best ball handlers and best shooters in the league in Shelby Strom.
"We'll need to step up our intensity level. It won't be one of those games we can take a possession off," he added.
Moses Lake Christ. 9 9 12 12 4 -46
Mabton 9 7 14 12 10 -52
FT-Moses Lake Christ. 9/22, Mabton 10/18. Rbds.-Moses Lake Christ. 32, Mabton 36 (Tellez 11). TO-Moses Lake Christ. 29, Mabton 27.
Mabton: Campbell 10, Enriquez 0, S. Williams 0, Jimenez 16, Sotelo 6, Tellez 4, T. Williams 14, Martinez 2,Cerda 0, Reynolds 0.