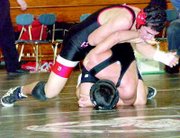 The Sunnyside High School wrestling team hosted its first double dual meet of the season, taking on Davis and Eisenhower high schools last night.
The Grizzlies used six pins against Davis High School to post a 53-15 victory over the 4A school.
Davis jumped to an early six-point lead when Herminio Muniz (171 lbs.) pinned Sunnyside's Juan Galindo in the opening match.
Sunnyside quickly tied the score in the next match when Danny Almeida (189 lbs.) pinned Michael Finely of Davis in 2:40.
It was pretty much all Sunnyside after that.
Wrestling in the 215-lb. weight class, Sunnyside's Jose Barajas scored a major decision over Alex Garcia, 14-1.
Heavyweight Angelo Salazar (285 lbs.) then pinned Guy Mason of Davis in 1:35.
In the 103-lb. division, Sunnyside's Steven Romero beat Courtney Nalley 4-1.
"We knew this was going to be a tough match," Sunnyside Coach George Paulus said. "Steven started the third round leading 2-1."
Romero was on the bottom when he scored a reverse, netting himself two points for a 4-1 lead. After that Romero just rode Nalley out for the win.
At 112 lbs., the brothers of the previous wrestlers took the mat with a slightly different outcome.
Sunnyside's Isaac Romero easily beat Zach Nalley 10-3.
"You don't see two sets of brothers wrestle back-to-back too often," Paulus admitted.
The Grizzlies got another pin in the 119-lb. weight class. Ricardo Rivera pinned Jose Martinez of Davis in 3:23.
Davis got its second win of the night in the 125-lb. division when J.J. Padilla decisioned Sunnyside's Trevor Gaskin-Herrera 4-0.
Sunnyside's J.T. Gonzalez got the Grizzlies back on the winning track in the 130-lb. weight class when he got a major decision over Kido Espinoza, 13-1.
Tomas Pena (135 lbs.) gave Sunnyside its fourth pin of the night when he beat Tony Yocum in 3:59.
Baltazar Avalos (140 lbs.) beat Travis Grow of Sunnyside 7-1. In the 145-lb. weight class, Cody Wolff pinned Sunnyside's Danny Alvarez in 2:50.
"Danny was ahead 3-1 when he got pinned," Paulus recalled. "Danny escaped from Alvarez to get to his feet but then Alvarez took him down to his back and Danny couldn't get out of it."
Sunnyside finished its last two matches against Davis with pins. Zeke Galvan (152 lbs.) pinned Seasar Suarez in 4:47 and Jesus Mendoza (160 lbs.) pinned Dillon Their in 1:20.
"It was a good show," Paulus said of his team's win. "The guys did a good job. Davis is greatly improved from last year."
Sunnyside then took on Eisenhower High School in the second meet of the night. The Grizzlies beat the Cadets 48-27.
"Ike wrestled a little bit better than Davis," he said.
They might have wrestled better but the Cadets had to forfeit four matches, which gave the Grizzlies a free 24 points.
The Grizzlies managed to get four pins against the Cadets.
Sunnyside's Salazar (285 lbs.) started it when he pinned Jeff Cozzetto in 2:18.
Steven Romero followed that in the 103-lb. division when he pinned Ricky Sanchez in 52 seconds.
"Romero took him down and slapped him with a three-quarters nelson," Paulus said of the move Romero used to get the pin.
Gonzalez (130 lbs.) got Sunnyside another pin when he stopped Daniel Bazan in 5:50.
"J.T. looked really good in this match," Paulus said. "His kid was pretty good but J.T. schooled him. J.T. was up 11-2 when he pinned him."
Sunnyside's last pin of the night came when Alvarez (145 lbs.) pinned Mario Mata in 1:43.
Isaac Romero (112 lbs.), Rivera (119 lbs.), Mendoza (160 lbs.) and Galindo (171 lbs.) all received wins through forfeits. The four forfeits and four pins were enough to overcome the five wins by Eisenhower and earn Sunnyside its second victory of the season.
The Grizzlies (0-0, 2-2) will travel to Mt. Vernon Saturday, Dec. 16, to participate in the Mt. Vernon Tournament.