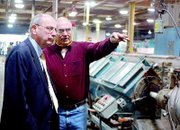 Noting that things were essentially "status quo," Fourth District Congressman Doc Hastings expressed some notes of caution and optimism following the recently completed congressional session.
Hastings, a Republican from Pasco, stopped by the Daily Sun News office yesterday during a brief visit to Sunnyside, where he toured the P.W. Eagle plant.
"I have always had an interest in the different types of businesses in the Valley," said Hastings, who ran a janitorial and office supply business before getting into politics. "I have always found some value in seeing the different industries."
Regarding Congress, Hastings said one area of optimism is that it appears likely that funding will continue for alternative crop research and marketing. He said that's especially important in the Lower Valley given the WSU research station in Prosser.
In addition, Hastings said, things look positive for continued funding of the Hanford clean-up, though he'd like to see the Department of Energy come up with a concise cost figure for the project.
"There are other concerns as well," he noted.
Hastings pointed to efforts by "environmental groups" to breach Snake River dams for fish runs.
He questioned the science behind the push to breach the dams, especially since it came just after the November general election swung the House and Senate to Democrats.
In a nod to the new reality of a House controlled by Democrats, Hastings said some of his efforts may be focused on trying to stop legislation such as breaching dams. If such legislation did pass, Hastings said it would have a negative impact on electrical rates in eastern Washington.
Hastings said he served in the State Legislature during sessions when the Republicans were the majority party and others when they were the minority.
He also pointed to his cooperative efforts with Democratic colleagues in getting legislation through Congress.
New House Speaker Nancy Pelosi will bring a more "liberal" view to Congress than her predecessor Dennis Hastert, Hastings noted.
At the same time, he pointed out that Pelosi "has said she wants to work in a bi-partisan fashion. I hope they're serious, because I've shown that I can work with Democrats."
In other comments, Hastings affirmed the need for the Black Rock Reservoir, even though he was "disappointed" with the cost/benefit analysis associated with building the $6 billion water storage facility.
"The bottom line is we need more water storage in the Yakima Basin," said Hastings. "That's one of the beauties of Black Rock."