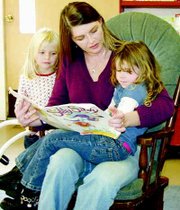 This "stay-at-home mom" is too busy to dispute the title often given to mothers who do not have a job in the workforce.
Elizabeth Osborn prefers the title "24-hour mom," given she is always busy. She works as a volunteer classroom mom for the elementary school classrooms three of her four children attend, and helps the United Methodist Preschool program on a regular basis while her preschool child is learning. When she is not busy between schools, running errands and shopping for her household's needs, Osborn is planning her next Sunday School class and various programs for the children at United Methodist Church.
When asked if she has feelings of being isolated, Osborn laughs, citing it is more a feeling of exhaustion from a complex schedule with little slow-down time for herself.
"My children know I am there. No matter what, Mommy's gonna sign up!" she exclaims when speaking of being a part of her children's activities.
Osborn said there are many rewards to being a 24-hour mom. She feels an "interconnection" between herself and the members of the community with whom her children interact. She said she is "plugged in" at church and in the schools. It is her way of keeping knowledgeable as to what is happening in her children's lives.
"My children know I support them, and the personnel at the schools know how to contact me. I know I can communicate with them in return," she continues when speaking of the open communication she has developed with the schools through her involvement.
One of the drawbacks Osborn noted is "not being able to say no." She said other parents, teachers and community leaders know she is a willing volunteer. So, they approach her more often than mothers who might be in the workforce. There are times when she may not be able to offer her assistance but she still finds herself saying she will help.
Her children are accustomed to her helping them so often that she finds herself being overwhelmed with the need to say yes, when she knows she should be telling them no out of sheer need for a break.
It is very difficult to fit time in for a break and "men don't often get it. They take it for granted and don't see moms need a break, too," she added.
"We don't have sick days, either. Moms have to 'tough it out,' instead of getting the respite necessary to recuperate," Osborn continued.
She went on further saying, "It's the most rewarding job." She once thought she would never want to be a mother. She just did not see herself having children. That perspective changed after the birth of her niece. "Then I decided to only have one child. I wanted a girl. I had a boy," she laughed. She said it became easier to see herself with more children after that and now has four children from preschool to fourth grade age.
Osborn finished, "God knew more than I did!"