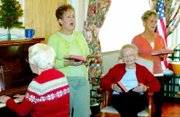 They've opened their hearts and lifted their voices in song every Tuesday for the last 20 years. They don't have a name and they don't have an agenda, unless you count making people happy an agenda.
"They" are a group of people who visit Hillcrest Manor on Tuesdays to sing hymns with the elders who reside there.
The group is non-denominational although quite a few of its members belong to the Sunnyside Reformed Church.
"All denominations are welcome," Maria Roosendaal, a member of the group, said.
Why do they do it?
"We try to bring the message of God to the people that live here," she said. "We also enjoy singing hymns."
Roosendaal said she has been involved with the Tuesday sing-along for a few years but her sister and mother have been singing longer.
"My aunt was the one who started this," she said.
Roosendaal was speaking of Ann Postma, who gathered people and started singing hymns to the residents at Sunny Haven nursing home in Sunnyside. After Sunny Haven closed down, Postma and the group started going to Hillcrest. They haven't stopped.
"It's fabulous," Mary Arthur, administrator for Hillcrest Manor, said of the singing group. "It's amazing to have a group like that come here."
She said the elders look forward to singing the hymns.
"They know when it's 11 a.m. on Tuesday," she said. "They're ready to go down there."
Roosendaal said everybody who comes to Hillcrest are volunteers and they usually sing for about 45 minutes.
"Everybody is welcome," she said.