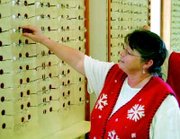 Julie Fluaitte was a content homemaker when she found a new career as a para-optician with Lower Valley Eye Care in Sunnyside.
"We built a new house," she said of her need to re-join the work-a-day workforce."
Fluaitte, an Outlook resident, said her experience includes everything from working in fast food to juice plants.
She even has radiology training and experience, which helped her obtain the para-optician position with Lower Valley Eye Care more than five years ago.
"I became too attached to the patients," Fluaitte recalled of the difficulty she had working in radiology for an emergency room.
But that personable touch is right at home in dispensing eye wear.
Whether it's a heart-warming compliment for an elderly patient's dress or coaxing a giggle out of nervous youngsters, Fluaitte, 55, has an engaging way of putting people at ease.
Fluaitte's responsibilities include fitting patients with their eyeglass frames, as well as ordering supplies of frames and billing insurance carriers.
She said the latter is the most challenging aspect of her job, especially with the recent changes in Medicare.
"There's always something new with the insurance companies," said Fluaitte, who recently attended a seminar on insurance billing.
She says the best part of her job is working with people.
"I like the people I work with a lot," she smiled. "I want each patient to get what they want and be happy with it, to make sure we've done a good job."
Making the patient happy can take patience, as Fluaitte has to take into consideration the style of frame a person wants, yet make sure there is a proper fit both for comfort and in appearance.
It also helps that Fluaitte, herself, wears eye glasses.
"Sometimes people will look at my glasses and say that's what they want," she said. In addition, she can share tips on wearing eye glasses and make sure that patients get just the right fit behind the ears and on the bridge of their nose.
That's especially important for children, she observes.
"If a child's not happy with their glasses they'll lose them fast," she noted.
Accidents do happen to eyeglass wearers, and Fluaitte is ready to help repair their frames.
She described one situation where a farmer's glasses fell out of his truck onto the roadway just before he hopped in and accidentally drove over his eye wear.
Then there are the times folks sit on their eyeglasses. In one instance Fluaitte giggled as she recalled how she shared a laugh with a patient by noting they "wore their glasses on the wrong end."
Fluaitte admits it wasn't easy going back to work, but she's thankful for her choice.
"If I had to go back then this is the place to come back to," she smiled.