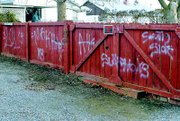 Back in October Rosie Wampole of Sunnyside got a little surprise. She went outside to find her garage had been vandalized. Graffiti was sprayed all over the place.
"It was a mess," said Russell Hazen, Wampole's son-in-law.
He said the garage had been completely repainted the previous fall. They called the police, who came out and took photos to document the possible gang signs and then Russell and his daughter painted over the mess.
Fast forward to late November, just after Thanksgiving, and Wampole was hit again. Vandals sprayed graffiti on the house in the 400 block of West Edison with gang signs. Two days after that episode, another set of vandals came by and sprayed graffiti over the two-day old graffiti.
Again Wampole called police, who came out and took pictures. Hazen said he was going to paint over the graffiti again but the weather had turned cold and the paint he bought wouldn't dry or stick to the second set of tags, which was done with a brown paint. Because of this he decided to wait until the weather warmed up.
Five days after reporting being the victim of vandals for the second time, Wampole received a letter from the City of Sunnyside telling her she had to remove the graffiti or face a fine.
Wampole, who is close to 90, doesn't get around like she used to do and with the weather being so cold, she didn't think it could be done. She called the city up to explain her situation and Hazen said the city agreed the cover-up would have to wait.
Then, last Thursday, as Wampole was at home, she said she was alerted to a car in the driveway by her dog. When Wampole walked outside she saw a woman painting over the graffiti on her garage.
"She told me this was her way of making a statement against gangs in the area," Wampole said.
The lady explained to Wampole that she and her daughter go around town looking for graffiti. When they find it they find paint to match the color and paint over the graffiti.
"Evidently they (gangs) must have done something to her," Wampole guessed.
She said she tried to pay the lady but she would have nothing to do with that. Wampole said the lady knew her name and thinks maybe the police might have mentioned Wampole to the mystery painter.
"I thought it was wonderful," Wampole added.
Unfortunately, the problems for the family continued when last weekend, the home of Wampole's son-in-law, Russell and Jacqueline Hazen, was hit with graffiti. The Hazens indicated they probably won't report the incident.
"I should," Russell said, " but I'm going to take care of it myself."
"It's a double whammy," Jacqueline said. "First we get hit by the vandals and then the city wants to fine us."
Looks like a job for the graffiti angel.