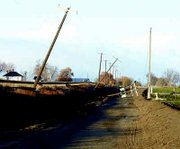 by Lynda Jo Gross and Jennie McGhan
Severe wind gusts last night wreaked havoc throughout the Lower Yakima Valley, downing power lines, tripping auto alarms and spreading flames from a Grandview barn fire to a nearby single-wide trailer.
Yakima County Fire District #5 firefighters responded to the fire at 1000 Canyon Road, according to Lieutenant Tony Castillo, but the fire was not believed to be actually caused by the wind.
According to Castillo, there were numerous extension cords going underground into the single wide trailer, as well as an extension cord running out to a nearby barn, which contained a space heater. "Either the water caused a short in the heater, or there was a malfunction in the heater.
"The fire started in the barn and the wind bent the flames toward the trailer," Castillo said, adding that the barn and trailer are a total loss.
In Sunnyside, firefighters mostly dealt with tripped automatic alarms, although there was a harrowing experience out on Scoon Road while firefighters tended to a pole fire.
Said Sunnyside Fire Captain Gene Smith, "While the guys were working on the pole fire, a tree limb fell about 25 feet from them."
Smith blames "power blips" for the tripped alarms.
According to Pacific Power representative Bekki Witt, 530 Sunnyside customers were without power as of this morning and about 1,240 Yakima area customers were as well.
"We have no estimated time for restoring power because we're working in so many different areas. We're coming across all kinds of broken poles and downed lines," Witt said.
"We'll restore power as soon as we possibly can."
Outlook Elementary School students who boarded school buses this morning for transport to Outlook found themselves being diverted to Sierra Vista Middle School in Sunnyside as the result of a power outage there. According to Sunnyside Superintendent Rick Cole, parents were asked to pick up their children as soon as possible and students already at Sierra Vista were served breakfast and lunch, if necessary.
Cole reported this morning that there are seven poles downed along Van Belle Road in Outlook.
Cole also said that there is emergency light and heat at the school, but no water due to inoperable wells.
According to the National Weather Service at Pendleton, the high wind warning for the Yakima Valley was dropped as of this morning, but Prosser and the Columbia Basin still were under a wind advisory.
According to meteorologist Mary Smith, as of this morning at press time, her reports of wind gusts and damage included the Toppenish and Pasco areas.
"In Toppenish, we have reports of a power outage due to power lines at a gas station one mile southwest of Toppenish, trees blown over the tops of houses near Wapato and Yakima and measured wind gusts in Pasco of 62 miles an hour," Smith said. She added that she expects several more reports to come in throughout the day.
According to Yakima County Public Works employee Craig Blankenship, the following roads were closed as of press time this morning due to wind damage: Murray Road from Wendell-Phillips to Snipes Road, West Satus Road due to water in the roadway, Forsell Road at the intersection of Highway 241, South Satus Road from just south of Highway 22 all the way to just north of Newquist Road and Ray Road from S.L.I. to Van Belle Road.