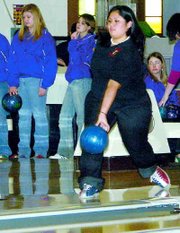 Heather O'Connor led a balanced attack by Wenatchee yesterday at Sunnyside's Valley Lanes, as the Lady Grizzly bowling team fell by a 4-0 score.
O'Connor's game high 171 in the opener powered Wenatchee to a 766-632 victory. The visitors won the second game, 888-649, with Allison Bakke's 193 and O'Connor's 190 setting the pace.
Wenatchee made a clean sweep of it with 173-157 and 197-117 victories in the final two Baker games.
In the losing effort, Sunnyside senior Veronica Uribe rolled a team best 313 two-game series on efforts of 150-163.
Sunnyside's other scorers yesterday included Jackie Francis (124-148), Michele Williams (136-133), Kayla Coder (127-114) and Marisela Prado (95-91).
JV action Thursday went Wenatchee's way, as well, as the visitors also won by a 4-0 score. Challea Bussert had the top two-game effort for the Sunnyside junior varsity with performances of 111-136.