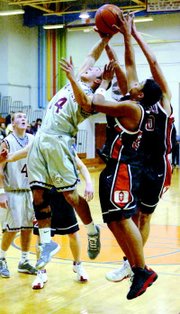 GRANDVIEW - In the always exciting CWAC South, the Grandview boys basketball team managed to cruise to double-digit home victories in league action this past Friday and Saturday.
On Friday the Greyhounds jumped out to an early 16-8 lead on the way to a 67-50 win over Othello. Grandview's advantage grew to 32-21 at the half, and the 'Hounds rode a 19-10 third stanza surge to all but put the game away.
Grandview Coach Scott Parrish praised the play of A.J. Valencia, the lone Greyhound in double figures with 16 points. Grandview's C.J. Lopez and Frankie Medina each scored 9 points, and teammate Nick Sears added eight points to go with a team-high six rebounds.
On Saturday Sears-10 points, 14 rebounds and four blocked shots- recorded a double-double to lead Grandview to a 77-63 win over East Valley.
Greyhound basketball fans will remember it was the Red Devils who upset Grandview during a home District playoff game last year.
The Grandview players certainly remember.
"We take a lot of pride at playing well at home and try to make things tough for the visitors," said Parrish. "Our guys remember what happened last year."
The main culprit in East Valley's win last year was its leading scorer, Kevin Komstadius this past Saturday.
Grandview reserve Adrian Perez drew the assignment of covering Komstadius.
"He made things tough," Parrish said of Perez, who held Komstadius to three-of-eight shooting from the field.
Also contributing off the Grandview bench Saturday was Rodrigo Fajardo with 10 third quarter points to help Grandview hold off East Valley after the 'Hounds had built a 26-21 halftime lead.
With help from Fajardo, Grandview's lead increased to 38-30 entering the fourth stanza.
Lopez led Grandview with 22 points and Zach Poteet added 11 for the 'Hounds. Valencia also tallied in double figures for Grandview with 10 points.
Grandview (3-0, 5-0) plays at Ellensburg this Friday.