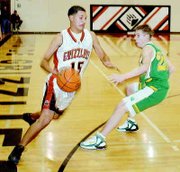 The 3A Sunnyside boys basketball team held its own early on in a couple of non-league games this past weekend, but fell short against the two 4A foes.
On Friday night the Grizzlies kept things close early against visiting Richland before falling 78-63. The Bombers pulled out to a 21-14 first quarter lead and expanded it to a double digit lead of 40-29 at the half.
Sunnyside trailed 54-40 heading into the fourth quarter when the Grizzlies' pressure defense reaped dividends.
Grizzly Coach Steve Urrutia said his team pulled to within nine points in the final stanza before Richland pulled away for good.
"The whole game we had it at a full court press," Urrutia said of his defense. "They (Richland) were able to handle it."
Richland was also able to shoot the ball, blistering the nets to the tune of 53.7 percent shooting for the game. Sunnyside made 32.8 percent of the shots it attempted.
Things were even more difficult for the Grizzlies behind the three-point arc as they connected on just six of 42 attempts for 14 percent shooting.
"We put a fair number of shots but we just couldn't stay with their shooting," Urrutia noted.
D.J. Palomarez led Sunnyside with 15 points and hauled down six rebounds. Nathan Cornelius led the Grizzlies in the paint with seven boards to go with seven points and four steals. Teammates Hunter Van de Graaf and Jessie Montelongo had six and five rebounds, respectively. Justin Bos tallied in double figures for the Grizzlies with 10 points.
On Saturday the Grizzlies had strong starts to open both the first and second halves, before wearing down in a 96-61 loss at Pasco.
Urrutia explained that his team's strategy has changed somewhat and instead of all players swapping in and out after a minute of play, some are being asked to stay in for four, five or six minutes at a time.
"There's a difference in being conditioned to play one minute at a time inside of four or five minutes," he said.
Despite the one-sided final score, Sunnyside trailed just 25-21 after one quarter, before the Bulldogs went on an 18-5 second quarter tear to go up 43-26 at the half.
Sunnyside, with fresh legs to start the second half, outscored Pasco 20-18 in the third stanza.
But the host Bulldogs made sure of the verdict in the final quarter, blowing past Sunnyside 35-15 to win easily.
"Physically they're strong, and they're good athletes," Urrutia said of the Bulldogs.
Jessie Montelongo led Sunnyside's balanced attack with 14 points and teammates James Baysinger and Nate Cornelius tallied 12 and 10 points, respectively.
Sunnyside (1-6) opens Columbia Basin League play tomorrow (Tuesday) at Eastmont.