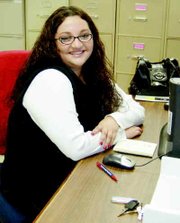 After a lengthy stint in Mabton, Yakima County's coordinator for the Traffic Safety Commission Task Force has set up shop in the Sunnyside Police Department.
Edica Esqueda set up her office here four months ago. Her position is made possible by a grant from the Washington State Traffic Commission. Her term in Mabton ended due to the lack of a program manager and Sunnyside took over the remaining terms of the grant.
"I loved working in Mabton. I worked there for three years," Esqueda said. "Working here is a big difference but I love it."
Esqueda said that the commission has one coordinator in just about every county in the state.
Her job is to coordinate funds for the traffic commission, oversee and publicize emphasis programs like Drive Hammered, Get Nailed and Click-It or Ticket. She also gives presentations to kids and adults. She's emphasized car seat education and given bicycle helmet fittings for children.
"My services are available to pass out educational information and I also help students with the fatal vision goggles," she said. The goggles help a student understand how alcohol impairs the body.
Each month, members of law enforcement meet, with Esqueda in attendance, to discuss traffic safety issues in their community.
"I also work with the media. We bend over backwards to spread our message, especially over the holidays."
When it comes to the absolute best advice she can give, Esqueda emphasizes wearing seat belts. "Wearing your seat belt is probably the best decision you can make all day long. You reduce the risk of injury by 70 percent."
Esqueda said that Yakima County has a compliance rate of nearly 96 percent, which is just in line with the state as a whole.
Esqueda also emphasizes getting a designated driver for those who plan on attending holiday parties.
"If you go to a party--plan ahead for a designated driver. Staying alive over the holidays is the best gift you can give to your family."