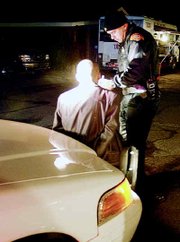 PAID OBITUARY
JEWEL P. RASMUSSON
Jewel Porter Rasmusson, 96, of Sunnyside passed away Saturday, Dec. 16, 2006, at Hillcrest Manor in Sunnyside.
She was born March 16, 1920, in Visalia, Calif. She was the seventh of 11 children born to Will and Ada (Lewis) Porter. The Porter family came from Missouri to California and on to Washington in 1914 when she was four.
Growing up, Jewel worked in the fields with her dad. She attended schools in Sunnyside thru the eighth grade.
She and Durman Rasmusson were married Goldendale on Sept. 8, 1928. They met at a dance in the Bickleton Garage that she attended with Durman's brother, Wesley. For a few years they lived in Dot County. This was during the depression and times were hard so they moved to Mabton, where Durman could find work. While living there in 1933 their son, Durman Jr. drowned in a small canal running by their house on Fisher road. They moved back on up "the hill" in 1934. In 1936, Durman went away to herd sheep for seven years. She and the children lived in Bickleton visiting sheep camps whenever possible.
Jewel will be remembered by many younger folks for making her famous play dough for them. No mess was too much for her when it came to children and their games. She enjoyed working in her yard and digging around her flowers. Her greatest interests, however, were pinochle, fishing and her grandchildren.
Jewel designed a tombstone for herself and Durman. It has Mt. Adams, a fishing hole with two fishing poles nearby and five sheep representing each of her five children.
She is survived by a daughter, Ada Ruth (Lawrence) Whitmore of Bickleton; two sons, Phil Rasmusson of Sedro Woolley and Mike and wife, Martha, of Kennewick; two daughters-in-law, Dorothy Rasmusson of Wenatchee and Cindy Rasmusson of Grandview; a brother, Robert (Bob) Porter and wife, Edie, of Yuma, Ariz.; a sister, Mae "Toots" (Harold) James of Spokane; 16 grandchildren; and almost 40 great-grandchildren. She has two great-great-granddaughters named in her honor, Sophia Jewel Rasmusson, born on Jewel's 88
th
birthday, and Kendall Jewel Rasmusson, born May 4, 2004.
Jewel moved to Orchard House in Grandview in September 1998 and made many friends with her bright and sunny smile. In May 2002, she moved to Hillcrest Manor in Sunnyside.
In lieu of flowers, donations may be made to the Rebekah Lodge in Bickleton or one's own choice.
Viewing and visitation will be held Thursday, Dec. 21, 2006, from 1 to 6 p.m. at Smith Funeral Home in Sunnyside. Funeral services will be held Friday, Dec. 22, 2006, at 1:30 p.m. at Bickleton Presbyterian Church, with burial to follow at Cleveland Cemetery in Bickleton.
More like this story