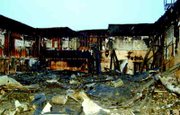 The picture is getting clearer for Outlook Elementary School students and staff.
Following a fire this past Sunday, Outlook's classes will be held in a patchwork of local churches and schools within the district.
According to a temporary plan released this morning, Outlook kindergarten through third grade students will hold classes in one of two churches starting Jan. 3, 2007, after the winter break, to Feb. 5.
The district has talked with St. Joseph's, United Methodist Church, Grace Brethren, the Assembly of God and the Presbyterian Church-all of Sunnyside-about hosting classes on a temporary basis, according to a district press release.
Outlook's developmental preschool classes will be at Pioneer Elementary, pre-kindergarten at Chief Kamiakin Elementary and the learning assistance center will all be moved to Lincoln School from Jan. 3 to Feb. 5.
Fourth grade classes will be held at Chief Kamiakin Elementary, while Sierra Vista Middle School will be the site of fifth grade classes.
While all students through third grade will return to Outlook school on Feb. 5, it appears the school's fourth and fifth graders will have to be permanently re-located for the duration of the 2006-07 school year.
That's because the fourth and fifth grade classrooms were the most severely damaged by smoke and water, said Julie Kaplicky, the district's community relations contact.
The district has already contracted with Chervenell Construction of Kennewick, the same firm that built Sierra Vista, to repair the school.
Kaplicky said the first priority will be cleaning up areas with minor smoke damage, such as the school office, library and kindergarten through third grade classrooms so those areas can open Feb. 5.
The fourth and fifth grade classrooms are so severely damaged by smoke and water they will not likely re-open until the next school year. Kaplicky said the same goes for rebuilding the old gym-now a commons, cafeteria and kitchen area-which completely caved in as a result of the fire.
As a result, the district is working on a plan to prepare meals at Harrison Middle School and transport them to students at Outlook once classes resume there Feb. 5.
Also in the works is a bussing plan to get students to their other school locations.
Kaplicky noted the district has not had a discussion about going to a staggered schedule of day and night classes.
"We're thinking we can do this," she said of having all students attend during regular school hours. "There are lots of things to work out, but we're pretty confident this plan will work."
The district's plan will be the topic of a special meeting for Outlook parents tonight at 6 p.m. in the Denny Blaine board room at 800 E. Custer. The open meeting will be in both Spanish and English.
The district also has a crisis hotline at 836-4172 to provide information.
Meanwhile, officials from the Alcohol, Tobacco and Firearm's Yakima office were on site this morning to investigate how Sunday's fire began.
District #5 Battalion Chief Todd Lenseigne said the ATF has narrowed the location where the fire started to the stage area of the old gym.
Lenseigne said the ATF is also calling in specialists to help in determining the cause of the fire.