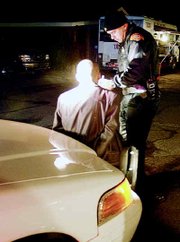 I've never been in trouble in my life, so it's hard for me to imagine what it's like to encounter police under bad circumstances. Even harder to imagine is what police face every shift they work. That was remedied recently, when I had the pleasure of going on a ride- along with Washington State Trooper John Ladines.
It opened my eyes, only, it did so in a way that makes me squirm.
The reason for my ride was because it was the "Night of a Thousand Stars" traffic safety emphasis patrol. This is a night where the Traffic Safety Commission pays officers overtime to target drunk drivers, aggressive drivers, those who speed and those who simply violate traffic laws.
I met up with Ladines at the Grandview Police Department. He explained that we'd be going to Sunnyside and was kind enough to pull over and explain some basics to me.
I started to feel a little squeamish when Ladines said, "If anything happens to me, you press this button, hold it down and give my badge number. They'll know where I am because I will already have called it in."
Let me be clear in that Sunnyside scares me. This fear is due in part to the fact that I've seen the police log on a day-in, day-out basis. And then there's the gangs. If they exist in Grandview, where I live, I'm oblivious to it.
Turns out, I'm oblivious to a lot. Everywhere.
As we drove through the streets of Sunnyside, Ladines told stories of things that he's experienced on the job, as well as experiences of his fellow troopers.
He was also kind enough to explain that each and every time he approaches a vehicle, he absolutely has to assume the worst until he can prove otherwise. This is a resounding theme I heard throughout my time with him. In fact, at one point, he said if he sees suspicious movement and can't spot a subject's hands, he has to assume they've got something that could kill him until he can prove otherwise.
Ladines emphasized that what people read in the newspapers about law enforcement is only a tiny fraction of what actually occurs in a night.
He also expressed his malcontent with a growing problem in the valley: illegal aliens with criminal agendas.
As we made our way to Yakima Valley Highway, Ladines spotted a late model Ford truck whipping out into traffic, and the fact that there was a bright light hanging down on the back license plate, blinding the numbers and letters.
Once Ladines flipped on the police lights, the truck didn't immediately stop. Ladines said that was an indication there could be trouble.
Soon, the truck turned into the Dark Horse Inn parking lot.
"This isn't good, this isn't good. This is how we get into trouble," he managed to say before calling in his location.
Instantly, Ladines recognized what's known as furtive movement--this is where he eyes the shoulders and arms of those in the vehicle and realizes they're reaching for something. This gives an officer reason to search the vehicle.
When he approached the vehicle, the passenger gently opened the door and then pulled it back to look like it was closed.
That, to me, was scary. Ladines saw it too, and later explained that he had his eyes on the hands of both men. Ladines explained later that when a door gets opened like that, it can mean one of two things: a person's getting ready to run or ready to fight.
During the course of his investigation once he stopped the vehicle, the two men claimed to speak very little English, carried no identification whatsoever, and couldn't remember where they lived. An hour later, they couldn't recall the birth dates they'd given earlier.
During this stop, Ladines found cocaine and a rolled up bill from Mexico. A search of one of the men turned up a pair scissors.
To me, scissors cut paper or fabric. Ladines said to a criminal, scissors can be just as deadly a weapon as a gun. "We don't play the what-if game. We play the when game," he said of officer training.
After arresting the men, we trekked to find a jail. Sunnyside was too full, so we ventured back to Grandview. The men had turned up with "no records" in the system, meaning no warrants, etc. While Ladines had his back turned, one of the arrested men couldn't stop snickering.
Ladines said that when given false information, as he was under these circumstances, repeat criminals are often let go because they don't show up in the system under the false names.
Turns out these guys didn't get away with it. The jailer called Ladines and explained the two men had warrants. In fact, one of the men had a history of assault.
Later on, I asked Ladines why he'd said, "This isn't good, this isn't good."
First of all, instead of pulling over to the right side of the road, the driver had taken a fast left into that parking lot.
"Taking a left is considered an evasive maneuver," he said.
Second of all, Ladines has been to numerous assault calls at the apartment complex that's near to where the driver of the truck pulled in. And, he said, before help arrives, it's easy to get surrounded in a hurry. "It's never a good thing to be on someone else's turf."
Ladines summed up what he goes through on a shift succintly: "The average person goes to bed at night thinking the next day will be the same as the day before. What they don't realize is all the chaos, possible shootings, etc. from the night before.
"We put our lives on the line so they can wake up the next morning feeling safe."