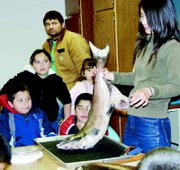 Bob Tuck and Maiko Yasu of the Yakima Basin Environmental Education Program spent a day at Sunnyside's Chief Kamiakin Elementary School, disecting Chinook salmon for fourth grade students.
The purpose of the visit was to "provide support programs for science enrichment and interdisciplinary skills to students in the Yakima Basin," Tuck stated.
He said teachers "build off" of what the program teaches. Teachers incorporate the lessons taught into various other subjects, such as reading, writing, science and even art.
"The students' various reactions and opportunities," are what Tuck said he enjoys most.
The Yakima Basin program educators are in Sunnyside periodically and they work with students throughout the region. Different natural resources such as water, salmon and elk are used as "starting points" in expanding children's learning opportunities. "Any natural resource is fair game," said Tuck.
Fourth graders at Chief Kamiakin not only got to see salmon up close, but also gained a great learning experience as they were quizzed on different characteristics and organs of the Chinook salmon Tuck and Yasu brought with them.
Tuck asked about the exterior characteristics of the salmon before he and Yasu cut them open. "Slime defends the salmon against germs and bacteria like your skin protects you," he told the students.
He told the students the only way to differentiate the male salmon from the female is to cut them open. "Males have milt and females have eggs," he said. He informed students there are approximately four to five million eggs in a female salmon.
"There will be a quiz later," he tells the students as he continues through the anatomy of the salmon.
Tuck helped students to understand the various functions of each anatomical part of the fish and the children seemed to enjoy every moment.
Jennie McGhan/Daily Sun News
Maiko Yasu of the Yakima Basin Environmental Education Program shows members of Mrs. Erika Barrom's fourth grade class the lateral line of a Chinook salmon. The lateral line holds pressure receptors, which act similar to human nerves.