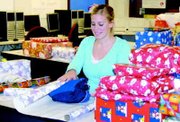 GRANDVIEW - As part of their annual service project, Grandview High School DECA students took on the tremendous task of adopting five families for Christmas.
Why so tremendous? Said project director Allison Grow, "They're pretty big families--36 people and an unborn child."
This is the 11th consecutive year ambitious Grandview students have adopted families.
Grow has planned the event for the past three years and developed a system to avoid past kinks. "I've learned how to play the game, I guess you could say," she said. This year, it involved color coding gifts for the families so as not to mix them up. She also aimed to start earlier than in years past. "The sooner you start, the easier it is to organize.
"We try to get each person four presents," explained Grow, while surrounded by a heaping load of gifts.
Adopting the 37 people was a collaborative effort between students and faculty, the AAU organization and Kiwanis Club, as well as the business community.
This year, the group earned $450 in donations, which is up from last year. "Last year we only had between $250 and $300."
Grow said that students ventured out into the community to raise the money.
The adopted families are selected through the Salvation Army, and that's the destination point for the gifts.
In the past, a massive food drive at the school has occurred simultaneously and what one would find is the DECA classroom filled with gifts and food. Key Club did work on the food drive this year, went ahead and delivered the food to the Salvation Army. The Honor Society donated the wrapping paper and FFA stepped up to the plate by donating five Christmas trees.
Gifts ranged from pots and pans for moms to towels and blankets, and, of course toys. "We also have a lot of clothing," explained Grow. "We tried to get at least a jacket or sweater for everybody."
All told, it's estimated that about $1,500 was spent on the five families.
Students in the leadership class (which automatically makes them a DECA member) delivered the gifts to the Salvation Army this past Wednesday.