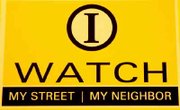 Ten months after forming, the "I Watch" neighborhood watch group of community members on Sunnyside's Harrison Hill is still active and has added a website to its tools in working with local police to fight crime.
I Watch President Dr. Jim Stevens noted earlier this year that more than 100 households had come into contact with the program.
In addition, Stevens said the neighborhood watch program in the last couple of months has helped capture a group of nine would-be thieves.
Stevens said others in the Harrison Hill neighborhood saw the nine Grandview men suspected of burglary and phoned police. "The police caught them before they got out of town," Stevens said.
The website can be accessed at iwatch.biz, and Stevens said it came about in the past few weeks as a way to aid communication among I-Watch members and to help keep track of suspects in the legal system who have committed crimes in the hill area.
"They know our names, so why shouldn't we know their names," he said of criminal suspects. "They know where we live, why shouldn't we know where they live."
Information provided on the site includes Sunnyside crime statistics and arrest archives.
According to the I Watch website, the group is committed to raising awareness of crime among residents of the neighborhood, developing a group of people who watch out for each other and making effective use of police and the criminal justice system.
The group seeks tax-deductible donations from its members for help in producing its crime prevention materials and is also committed to supporting neighbors who are victims, to the point of providing encouragement and attending legal hearings.
Further, Stevens last night said that I Watch will help crime victims gain information in recouping their financial losses from those convicted of vandalizing or burglarizing their homes.
"If you don't go after them, they'll just hit someone else," he said.
I Watch works on a system of 13 block watches, with leaders assigned to each area.
I Watch members meet on 7 p.m. on the first Thursday of each month at Our Saviour's Lutheran Church in Sunnyside.
For more information on I Watch or to participate, visit the website at www.iwatch.biz.