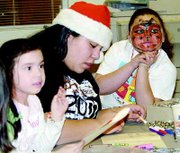 The Sunnyside Recreation Department and Sunnyside High School Leadership students in cooperation with Sunnyside Community Hospital held a Santa's School's Out Fun and Fitness day at the Sunnyside Community Center Wednesday.
The SHS Leadership students were earning money for a trip to Washington, D.C. to be taken this spring. They were enjoying the time they spent with the children in the Santa's School's Out program, playing games, painting faces and creating arts and crafts.
Members of the SHS Leadership class include Melissa Stamschror, Jonas Linde, Claire Schilperoort, Beckie Fernandez, Jamie Zijlstra, Alejandra Bobadilla, Mayra Serna, Judith Lacona, Jacob Brandvold, Dane Schmick and the leadership teacher, Dave Martinez.
More than a dozen children were able to participate in the program. The children were provided lunch during the program courtesy of Sunnyside Community Hospital.