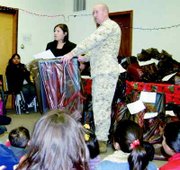 GRANGER - Marines from Bravo Company, Fourth Tank Battalion, Fourth Marine Division of Yakima spread the Christmas spirit in Granger this past Wednesday as part of their "Toys for Tots" campaign.
According to Gunnery Sergeant Cesar N. Solorzano, the Yakima division has been conducting the campaign for 50 years. This year, he said that with the help of surrounding communities and businesses, the Marines were able to provide at least two toys per child for 8,000 children.
Children and their parents who receive services from Consejo Counseling & Referral Services were on hand Wednesday to accept the gifts.
According to Consejo's Eastern Washington Site Supervisor, Bertha Beltran, the Granger site serves families throughout the Yakima Valley who are crime victims.
Beltran said that she was contacted by the Marines in November and they offered to provide toys for children involved in her program.
"We have 20 families and about 60 kids," Beltran said. Of that phone call, she said, "I was really surprised. It was great. They wanted to reach down in the lower valley."
Beltran received some help during the event from an unusual source: Mabton High School wrestler Eli Perez dressed up as Santa Claus, with the help of fellow wrestler Adrian Magana.
Prior to Gunnery Sergeants Don Cornelius and Matt Heath passing out gifts to the families, children sat on Santa's lap, smiling for pictures and revealing their deepest Christmas wishes.
Gunnery Sgt. Solorzano said that their goal was to not burden families with having to go to Yakima to pick up the toys. And, he said, Beltran's organization helped immensely. "We can't do this without the help of the people who work with these families 365 days a year. She really broke it down and helped plan for it."
Of the toy collection campaign, he said, "It's our mission and it's one of the missions we like to do."