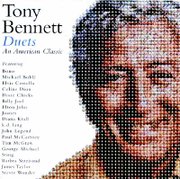 To celebrate his 80th birthday and a lifetime of achievement, crooner Tony Bennett has released "Tony Bennett: Duets - An American Classic."
Recorded in the studio, the CD features Bennett performing duets of his classic songs with artists such as Bono, Elvis Costello, the Dixie Chicks, Billy Joel, K.D. Lang, Paul McCartney, James Taylor, Stevie Wonder and more.
The 18 songs on the CD were recorded in three cities in early 2006. Recording took place in Capitol Records in Los Angelos, Bennett studios in Englewood, NJ and Abbey Road Studios in London.
The song Lullaby of Broadway sung with the Dixie Chicks is the first song on the CD.
The dynamic is excellent with the live approach the CD takes.
According to www.top40-charts.com, this live approach was thrilling to the guest artists singing with Bennett. Despite the existence of technology that allows artists to record duets without being together physically, Bennett thought it was essential that each artist perform and record directly with him.
Although I'm not a big fan of Barbra Streisand, her duet with Bennett on the song Smile is one of my favorite songs on the CD. No matter her personal or political views, Streisand does have a beautiful voice that pairs nicely with Bennett's.
Another good song on the CD is Rags to Riches, sung with Elton John. The two aging icons complement each other well.
The only song Bennett performs by himself on the CD is his classic I Left My Heart In San Francisco, accompanied on piano by Bill Charlap.
Bennett joined Columbia Records in 1950 and has been signed to this label longer than any other artist in history. He has sold more than 50 million records worldwide and he has more than 100 recordings to his credit. Bennett has also won 13 Grammy awards in his lifetime.
Even if you're not into this type of music, a CD with Bennett singing his classics with all these famous artists is a must have.
More like this story