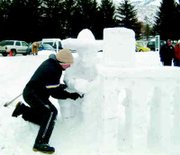 CHELAN - During the weekend of Jan. 12-14, Chelan will be holding its annual Fire and Ice Winterfest, featuring a variety of activities.
Some of the activities will include a bonfire, a torchlight parade, fireworks and a Polar Bear splash.
Friday and Saturday night downtown Chelan businesses will be open with Fire and Ice specials. Also offered will be ice carving displays and local entertainment.
Saturday, Jan. 13, a sculpting contest will be held in Don Morse Park from 10 a.m. to 3 p.m.
Children's activities will be held at Don Morse Park throughout the day on Saturday, as well. They will include snowman building, finding candy in the hay, tug-o-war, 3-legged race and arts and crafts projects.
A chili cook-off will be held at the Lake Chelan Chamber of Commerce and Visitor Center on Saturday and a chili feed will be held at Don Morse Park from noon to 7 p.m.
The Torchlight Parade will be held in downtown Chelan Friday and Saturday at 6 p.m. Participants can decorate themselves in lights and march through the downtown to Don Morse Park.
A fireworks display at Don Morse Park will be at 6:45 p.m. Friday and Saturday.
Saturday and Sunday, at Don Morse Park, from 10 a.m. to dark, the seventh annual Wally Peterson Memorial Snowmobile Drag Races will be held.
For more information on these events, call 1-800-4CHELAN.