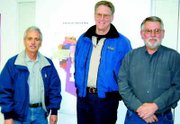 For the past three years a group of six men representing three Sunnyside churches have quietly found ways to serve the community.
The men are from Grace Brethren Church, the Sunnyside Christian Reformed Church and the Sunnyside Presbyterian Church.
This summer one of the men, Ed Werkhoven, contacted Sunnyside code enforcement officer Bill Eikenbary to see if there were ways the group could help.
The result has been three occasions in the last six months when the men have helped those unable to maintain their property in accordance with city codes.
The most recent example was a couple of months ago when Jim Rivard, another code enforcement officer with the city, said an elderly woman on oxygen clearly needed help in clearing brush and debris from her property.
"I'm not going to fine an 80-year-old woman on oxygen," Rivard said.
As a result, Eikenbary called the men's group to see if they would be interested in helping.
Eikenbary emphasized that once any volunteer group agrees to help, the city steps aside and allows the volunteers to work directly with the person or persons needing a hand.
Werkhoven said in this particular instance, the woman was grateful for the help.
"She said 'thank you, it looks so nice'," Werkhoven recalled, noting the woman offered to pay for the service, but he declined the offer. "I told her if she gives me any money I'm just going to turn around and buy her some groceries with it," he smiled.
Werkhoven was quick to note that the group keeps a low profile about its service and said he didn't want any undue focus on him or his group, noting the Sunnyside community is full of people who help out in various ways.
He noted the example of a "lawnmower man" who keeps a lawnmower in the back of his truck so he can volunteer in case he happens to see someone needing assistance with their lawn care.
Rivard also noted the example of the turnout of service groups who helped the Port of Sunnyside install irrigation lines at an I-82 off-ramp in Sunnyside.
"If you asked for help, I don't think there's a one of them that would turn you away," Werkhoven said.
Eikenbary said the community efforts remind him of "what neighborhoods used to be like." He added, "People used to know their neighbors, they used to know when they needed help. This kind of brings that concept back again."
That example of working one-one-one, in person, with those in need has not been lost on the city of Sunnyside.
Due to situations where some code enforcement officials have been over zealous, the city of Sunnyside now mandates that code officers make personal contact with residents before issuing code violation citations.
Eikenbary says that, in turn, will help the city gain a better idea of those residents who want to address their property's needs, but are physically or financially unable to do so.
"Our goal is to have as much face-to-face contact as possible," Eikenbary said.
Werkhoven said the men's group is happy to help when needed, finding their inspiration to serve from a higher calling.
"We're all called to service," Werkhoven said. "The greatest example of service was when Christ washed the feet of his disciples, even though he knew one would betray him, one would deny him and one would doubt him."
He added, "That's a big lesson for us to follow in his footsteps. We're all in this city together."
Those wishing to help, or in need of help, related to property upkeep issues can contact Eikenbary or Rivard at 837-4299.