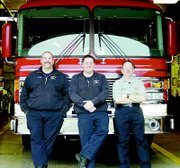 Stockings hung by the fireplace, tearing through wrapping paper to open gifts and sitting down to a sumptuous meal are all hallmarks of a traditional Christmas Day.
That is unless you're among the myriad of folks in the Lower Valley and elsewhere who will be working this Christmas Day on Monday.
Captain Paul Filicetti of the Sunnyside Fire Department, for example, and the men on his shift will be working to assist citizens of Sunnyside.
"I pray for a perfect shift, with no calls," Filicetti says.
However, he said Christmas is usually very busy due to travelers, domestic violence incidents and fires that occur. He added, "One year we ran non-stop during an ice storm on Christmas. The ambulances didn't stop (running)."
He said Santa comes a day early this year for his family.
"In year's past, we got up extra early, around 6 a.m. But, that's not gonna fly this year," he laughs. His family will be celebrating Christmas on Christmas Eve.
A family gathering will be held at the fire department on Christmas day.
"We try to still keep a family atmosphere," Filicetti said of the fire department's Christmas celebrations. He said families all gather at the fire department for a large feast, stating that this year's menu will include prime rib.
Speaking of family, for Grandview's Veldhuis family working through the holidays is simply a way of life and always has been.
Jacob and Anna Veldhuis own Klompe Dairy on Hornby Road, and running the operation is a 24-hour-a-day, 365-days-a-year ordeal.
"It's the way it always has been," said son Ruurd Veldhuis.
The family immigrated from the Netherlands, so here in the states, they have no other family members.
The Veldhuises and their three children work together to operate the dairy.
How do they celebrate Christmas?
Says son Ruurd, "We celebrate Christmas Eve and we have dinner together."
Christmas morning is a whole different story. Come Dec. 25, Ruurd will wake up at 4 a.m. and work until about noon. After taking a couple hours off, he'll get right back to it.
When a family member has an event they'd like to go to, the family works around each other's schedules.
A working Christmas is a different experience for each person.
That's true for Andrea Quintero, a volunteer with Lower Valley Crisis and Support Services.
Quintero will work from her Sunnyside home as an on-call volunteer this Christmas for the crisis and support service.
"Sometimes I can help over the phone, but most of the time I need to visit them," Quintero said of calls she receives for help.
As a police dispatcher for Sunnyside, Quintero said she has had to work Christmas in the past.
"My family's used to this," she said of past experiences in working Christmas.
Of course, her first Christmas as a volunteer may be a different experience.
"Since it's my first time being on-call it may be more difficult because I'm not sure at what moment I'm going to have to leave," Quintero said.
It could also be challenging, Quintero said, because people tend to be more stressed during the holidays.
"There's a lot of stress for families," she observed.
Quintero said the calls for help she receives through the crisis service range from people needing fuel or shelter to those who are victims of a violent crime.
With her experience in the Sunnyside Police Department, and her recent degree in social sciences from Washington State University, Quintero brings a unique perspective to helping those in crisis on Christmas, or any other day.
If she gets a call this Christmas, especially one that requires her to be away from home for a part of the day, Quintero said she will be happy to help.
"I know I put myself into this situation," she said. "But it's a way for me to give back to the community."
Ken Mortland also serves the community of Sunnyside, and will be working this Christmas Day as an emergency room registered nurse for Sunnyside Community Hospital.
In 2006 Mortland moved into a new house and this holiday season, he's testing the decorating waters. He's strung his Christmas lights outside and decorated what he refers to as his Charlie Brown Christmas tree.
"It's a year of change this year," he said.
Mortland will find himself working a 12-hour shift come Christmas Day. Is he bothered by it? Not so much, he says.
"My tradition is to go to the Christmas Eve service at church," he said, which usually results in caroling.
In Christmases past, that's the way it's always been, with unwrapping gifts Christmas morning.
Instead of celebrating on Monday, Mortland will trek to his parents' house and have Christmas with them on Dec. 26.
"We get our schedule in advance, so I was able to make arrangements with my family."
But because he has Christmas Eve off, he'll still be able to keep his tradition of worship.
For others, a working Christmas has become a tradition in itself.
Don Stevens, a poker and pit dealer at RC's Casino located between Sunnyside and Grandview, has worked every Christmas since he's been employed at the casino. As a matter of fact, he volunteers.
"We don't open up till later in the day," he said of the casino's hours. "My family does a lot of our Christmas celebrations on Christmas Eve and early Christmas Day."
Since he is single, his kids are all grown up and he doesn't come into work until 6 p.m., Christmas is just like another day.
He said after a full day of opening presents and eating turkey most of the customers are pretty mellow when they come in on Christmas night.
"This is a good place to work," Stevens added. "I like the people I work with and this job is almost like playing. It's fun.
"I'm semi-retired anyway, so having this job is like being in full retirement," he continued. "I'm having fun and I still get paid!"
Natividad Tapia also doesn't mind working on Christmas.
She's worked as a counter clerk at Valley View Market in Sunnyside for four years and has worked every single Christmas.
"We're always very busy on Christmas because we are one of the only stores open," Tapia said. "I like that. It makes the day go by faster."
She said she doesn't mind working on the holiday because she doesn't celebrate Christmas due to religious beliefs, so working 7 a.m. to 3 p.m. on Christmas will be just another Monday for Tapia.
Elsewhere in the Lower Valley this Christmas, Lily Prieto will be working at the Best Western Inn at Horse Heaven in Prosser.
She said there isn't any real anticipation for Christmas. Prieto said, "It's a pretty slow day. Most people just want to stay home."
Prieto has worked three Christmases at the Best Western and said it interferes with the family since she has three small children at home.
"I can't be there when they wake up and they don't want to wait for me to get home," she added.
However, she has come to "just accept it as part of the job," Prieto said.
Her family will have a big celebration when she arrives home Christmas afternoon at around 3:30 p.m.
To pass the day at work, Prieto says she does a lot of catch-up work to keep busy. "Christmas day is one of the quietest days of the year," she commented.
Over in Grandview, Sergeant Kal Fuller and Officer Scott Ames will hope all is calm there Christmas Day as they will be working for the police department this holiday.
Fuller has been with the department for 19 years, and has worked his share of Christmas and Thanksgiving holidays.
Fuller says his family adjusts accordingly, making plans for festivities on Christmas Eve.
"We get our schedules early enough that we can sit down and plan ahead," Fuller said of his family. "After 20 years it's not that much of an issue."
As far as Christmas Day goes, there's no way to know from one year to the next how the case load will go.
"Some years there's only one or two calls and then other years it's really busy," Fuller said, noting that some of the more unusual Christmas Day calls are for stolen lawn ornaments.
Fuller will man the police office phones on Christmas, while Ames will be out on patrol.
Ames has been with Grandview for about two years and this will be his first year to work as a police officer.
"It fits in well with my family," he says of a working Christmas. "We tend to do our celebrating on Christmas Eve."
Fuller said his past experience working Christmas Day as a police officer helps remind him why he is in law enforcement.
He observed, "When I'm driving through a neighborhood and I see families turn their lights out for the night to go to sleep I know I'm there to protect them so they can do that."